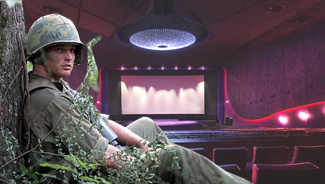 After the cartoon, the first movie started. It was The House of Usher, starring Vincent Price. It was about a family cursed with madness in a creepy old mansion. This was followed by The Masque of The Red Death, another Vincent Price movie. This one was about the evil Prince Prospero hiding out in his castle to escape the plague, which was called The Red Death. This movie was okay, but they always saved the best for last. The final movie was The Pit and the Pendulum, and yes, it was another that starred Vincent Price. And this one was great. It had a creepy castle, dark and dreary dungeons, weird and dreamy flashbacks, and a final scene that made you want to jump out of your seat. When I saw the horror-stricken eyes of Barbara Steele locked inside the Iron Maiden, I thought I was going to scream. I quickly looked over at Stephen and was shocked at what I saw. He wasn't even looking at the movie. He seemed to be looking at his hands, and I could have sworn there were tears in his eyes. I didn't know what to do or what to say, so I just kept looking straight ahead at the movie screen as the credits rolled by. I didn't know what else to do.
We sat there until the house lights came back on. Most of the people there had already left when suddenly Stephen turned to me. "I want you to know that going to the movies on Saturday like we have done together all this time now has been very, very special for me. I may not have ever told you this, but I want you to know it now."
I looked at him but had trouble keeping my eyes locked to his. He seemed so serious. "Gosh, it's been great for me, too."
"And I want you to study hard in school and make something special with your life. You know how you like to write those little stories?"
"Yes, but they really aren't anything."
Stephen leaned closer to me now. "Yes, they are, and don't ever think they are not. You keep it up. You study hard, listen to Mom and Dad. You have all the talent in the world; you just don't know it yet. But I do. And someday, they will be showing movies that you wrote."
I didn't know why he was talking to me this way. I was beginning to feel a bit uneasy.
"And most of all, I want you to know that I love you, Frank, my little buddy. Don't ever forget that."
That is the one thing I have never forgotten, and never will. You see, Stephen was killed in action less than a month later in some godforsaken jungle in Vietnam. My handsome, charming big brother was gone forever in a single flash. Looking back on that final day we spent at the movies together, I realize now that perhaps he knew, somewhere deep down inside, that he might not ever return. There would be no more time spent together with his little buddy, no more smiles that would melt the young girls' hearts.
That was the last Saturday matinee I ever attended. In fact, I have not been to the movies since that day. I can't stand the smell of movie popcorn, and certain candy bars turn my stomach. The Crest Theater is no longer there. It was demolished to make room for a four-story parking garage. This seems only fitting to me. My dreams of growing old with Stephen were demolished, as well.
Since that time, I have had many regrets in life. I think we all do. But the one that stands out most to me was when Stephen looked at me while we sat in the seats of the second-story balcony and told me he loved me. At the time I didn't know what to do, but now I do. And without the slightest hint of awkwardness, I can clearly say now, with all my heart, "I love you Stephen. Please don't ever forget that."
Brent L. Petretti, a native Californian, had a story published in 1975 (Grit Magazine; those over 40 might remember this) but stopped writing for nearly 33 years. In an attempt to rekindle memories of those earlier days, he started to peck away on his portable Olivetti and found the writing much harder than he remembered. This story is his most recent effort after having a handful of stories published in the horror genre.