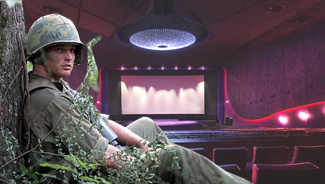 We finally arrived at the Crest Theatre, and I was relieved to see there was only a small line waiting to purchase tickets. When we finally stepped up to the ticket window, which was a glass enclosed booth, we were greeted with a hearty smile. Miss Sullivan, who had been in charge of selling tickets for as long as I could remember, had two ready for us even before we could ask. She admired my brother in his military dress. "Well, Stephen, you certainly look sharp today. Our country should be proud of such a fine looking soldier."
Stephen blushed noticeably. "Thank you, Mrs. Sullivan. I will be leaving for overseas next week."
Even though she tried to hide it, I could see a change in her facial expression. "Will you be going to Vietnam?"
Stephen was reaching for his wallet. "Yes, Mrs. Sullivan."
Mrs. Sullivan looked at my brother and gave him a heartfelt smile. "Then you can just put that wallet of yours away. The movies today are on the house, and that includes all the refreshments, as well."
My brother didn't quite know what to say. "Gee, Mrs. Sullivan. You don't have to do anything like that."
"I know I don't, Stephen. But I want to. It's the least I can do. Now you get in there with your little brother and enjoy the movies."
Stephen looked her directly in the eyes. "Thank you."
Mrs. Sullivan smiled back. "God bless you, Stephen."
We walked in through the large glass doors, and the aroma of fresh popped popcorn, lathered in real butter, was all we could smell. There is nothing like the smell of movie popcorn to remind you where you are and what you are about to see. My mom used to make it at home for me and Stephen sometimes, but it just wasn't the same. We ate it, because we ate just about everything Mom made for us, but when we said how good it was, we were actually stretching the truth a little bit.
Stepping up to the snack bar counter, I turned to Stephen. "Well, what do you think we should have today?"
He leaned forward to peer into the glass-encased counter, taking in all the various assortments of candy, and crunched his eyebrows together like he was in deep thought. Then he turned to look at me, and gave me that charming smile that drove a fair amount of girls from his high school just a little bit crazy. "Well, little brother, I don't see why we shouldn't have the usual. What do you think?"
"That's just what I was going to say," I said, looking to spot my two favorite movie-time items.
A girl from the local high school stood behind the counter. She smiled at me while casting quick glances at my brother. He looked so mature and adult-like in his military uniform.
"Hi, miss," said Stephen. "I think we are ready." She approached rather shyly. "We would like a Big Hunk and a Look candy bar for my brother here, and I would like a box of Milk Duds and a box of Juicy Fruits."
That was it. That was the magical order we had requested for as long as we had been going to the movies together.
The blushing girl put the candy on top of the glass counter. "Anything else, like popcorn or maybe a soda? It's free, you know. Mrs. Sullivan already called back to tell me whatever you asked for is fine. There will be no charge."
"That is very nice, and I really appreciate it," said Stephen. "But this is more than enough for free. I wouldn't want to take advantage of such a kind gesture."
We then collected our goodies and started up the carpeted stairs toward the second-floor balcony. I was in the lead, because I was still worried about getting some good seats, but Stephen was taking his time climbing the stairs and looking around at everything. I even caught him staring at the old fake chandelier lights above the stairway. I don't even think he noticed how I was trying to hurry. It was like he was in his own little world, taking in all the details that surrounded him, even though we had done this a hundred times before. I had no idea why this was happening, so I tried my best to be patient. It was hard to do. Three Edgar Allen Poe movies don't come around very often.
When we stepped in from the stairway, we had to let our eyes adjust to the darkness, and then we picked out two seats in the middle of the first row of the second balcony. These were the best seats to watch a movie. No one would be walking in front of you, and there was a ledge that you could put your feet on if you felt like stretching out. It was perfect, and the first movie would be starting any minute now.
I turned to Stephen. "Isn't this great? Here we are, just like always. Here we are, ready to watch movies on a Saturday."
Stephen turned to me and smiled. "You're right, little buddy," he said. He rarely called me by my real name, which is Frank, but I never cared about that. Somehow being called "little buddy" by him seemed more personal, more caring.
"I hope we can do this together forever," I said. "Even when we get older."
The smile on his face seemed to lose a bit of its luster, and once again he seemed to go somewhere inside his own thoughts. I could tell he was thinking about something, and it looked like whatever it was, it was something very troubling. He turned to look at me, and it seemed he was just about to say something when the huge red velvet curtain pulled apart and the complementary cartoon began to play. It was a Bugs Bunny cartoon, another one of our favorites. Stephen turned back toward the movie screen, and I was left wondering what it was he wanted to say and why he looked so troubled.
Brent L. Petretti, a native Californian, had a story published in 1975 (Grit Magazine; those over 40 might remember this) but stopped writing for nearly 33 years. In an attempt to rekindle memories of those earlier days, he started to peck away on his portable Olivetti and found the writing much harder than he remembered. This story is his most recent effort after having a handful of stories published in the horror genre.