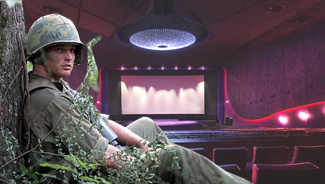 The weather was perfect on that Saturday morning. It had rained off and on the night before, and now everything was damp and fresh and somehow renewed. I was excited nearly beyond control because my big brother, Stephen, was home on leave from the United States Army after completing basic training at Fort Benning, Georgia. He would leave the following week to fly half way around the world to fight in Vietnam, a conflict I didn't understand at the time and perhaps still don't. The year was 1968 and I was just ten years old. Back then, I was more concerned about riding my bike and playing tackle football down at Columbus Park than what was going on in some far away place I had never heard of before Stephen joined the military. My folks would talk about this place, Vietnam, in hushed tones, and question if President Johnson knew what he was doing. But all these whispered conversations, mainly when I was around, were centered on my big brother, and so I never really tried to pay too much attention. All I was interested in now was this day, this Saturday, when Stephen and I would spend the whole afternoon down at the Crest Theatre watching a triple bill of Edgar Allan Poe horror films which included The House of Usher, The Pit and the Pendulum, and The Mask of the Red Death. I couldn't wait to get started.
I was already finished with my breakfast of Life cereal and a glass of orange juice, had fed and watered Bosco, our dog, and raked the gravel in the driveway by the time Stephen got up that morning. He had gone out with some friends from high school the night before and didn't get home until well after midnight. He sat at the kitchen table, in his neatly pressed Class A Army Uniform, eating toast with butter and jam and drinking a cup of black coffee. I know he was just as excited to go to the movies as I was. It was always that way in the past, but there was something noticeably different about him this morning. He seemed much more serious, somehow older, like there was something going on in his mind that would not go away. He didn't see me watching him from the hallway, but I could tell something was bothering him, like he was looking into the future and not seeing any images. He finally sensed my presence and quickly turned toward me with that great big smile of his, and I knew, for that day at least, all would be right in our lives.
"Hey, little buddy," said Stephen, peering into the hallway. "What are you doing hiding over there?"
I ran to the table to be near him. "Nothing. Just waiting for you to hurry up and eat so we can get going. With those three great movies playing, we might not get a seat."
Stephen laughed out loud and reached out to tousle my hair. "Don't worry about that. There's plenty of time. What I want to know is what balcony do you want to sit in?"
The Crest Theatre had three balconies. All the little kids sat on the first balcony, or the ground floor seating, and all the older ones with their girlfriends sat way up in the third balcony so they could make out. "How about if we sit in the second balcony? It's high enough to get a great view of the movie screen, and we don't need to worry about a bunch of kids constantly walking in front of us."
"Second balcony it is, then," said Stephen, draining the last of his coffee. "I need to run a quick errand, and when I get back we can go. I won't be long."
As soon as he got back, we took off. Even though we could have borrowed Mom's car, Stephen insisted we walk, because we always did it that way and he wanted everything to be just like it used to be. That's one of the things I always admired about my big brother. He liked it when things stayed the same. Even though he had many friends his own age, him being eight years older than me, he still insisted on doing stuff with his little brother. We would walk across the street from our house, cross over the Southern Pacific Railroad tracks, then on past the old Richmond Chase Cannery and up to First Street, and then straight on out to the movie theatre. All in all, it would take us about a half an hour to get there. But on this particular day, we seemed to go a little more slowly than usual. Stephen kept wanting to stop to look at stuff we had gone past a million times in the past, so I just waited for him whenever there was a pause. I knew we would get there in plenty of time, but like I said, I was pretty excited about the triple feature at the show. When I asked him why he was taking his time in that way, he simply said he wanted to take it all in, whatever that meant.
Brent L. Petretti, a native Californian, had a story published in 1975 (Grit Magazine; those over 40 might remember this) but stopped writing for nearly 33 years. In an attempt to rekindle memories of those earlier days, he started to peck away on his portable Olivetti and found the writing much harder than he remembered. This story is his most recent effort after having a handful of stories published in the horror genre.