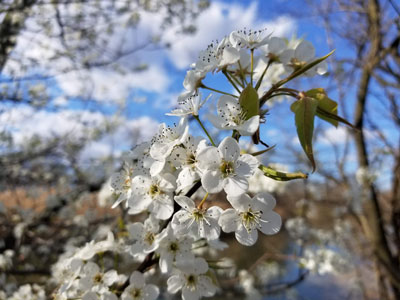 Coming back from a lengthy hiatus, Wild Violet is resuming a weekly schedule, because in these days of quarantine and self-isolation, we need the arts more than ever. This week's contributors write about quiet moments, about connections with nature and with each other.
"Kindness" by Carole Phillips shows how a solitary moment becomes an opportunity for solace from a stranger.
"Where the Skin Breaks" by Raymond Philip Asaph ponders how the immutable beauty of a peach can become spiritual.
"Overcast evening" by Ayaz Daryl Nielsen, a haiku, captures the feel of a gray day.
"It's early morning and nothing's happening" by Ayaz Daryl Nielsen takes a glimpse out a window at a quiet world.
"Lessons" by Eliza Callard takes a tender look at an aging animal friend.
Bookmark this site: Starting on April 1, in honor of Poetry Month, Wild Violet will publish daily poetry prompts for both adults and children!
Alyce Wilson is the editor of
Wild Violet
and in her copious spare time writes humor, non-fiction, fiction and poetry and infrequently keeps
an online journal
. Her first chapbook,
Picturebook of the Martyrs
; her e-book/pamphlet,
Stay Out of the Bin! An Editor's Tips on Getting Published in Lit Mags
; her book of essays and columns,
The Art of Life
; her humorous nonfiction ebook,
Dedicated Idiocy: How Monty Python Fandom Changed My Life
, and her newest poetry collection,
Owning the Ghosts,
can all be ordered from her Web site,
AlyceWilson.com
. In late 2019, she published a volume of poetry by her third great-grandfather,
Reading's Physician Poet: Poems by Dr. James Meredith Mathews,
which also contains genealogical information about the Mathews family. She lives with her husband and son in the Philadelphia area and takes far too many photos of her handsome, creative son, nicknamed Kung Fu Panda.