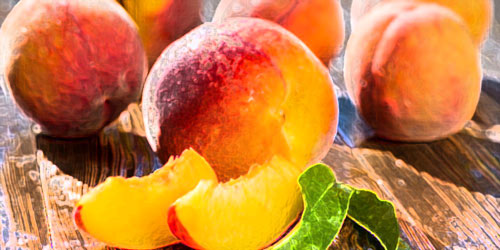 Instead of church, I touch a peach,
rounding my hand over the mound—
touching it fully with hand and mind
the way a priest beholds a Host.
Running one finger along the seam,
I let go, lean back, just look at it:
the ripe pink blush, the delicate fur,
the curve like the curve of the Earth.
Closing my eyes, I fill my nose
with scent so generous it moves
my toes and makes my eyebrows rise.
This, too, I believe, is the body of Christ
when I taste the juice where the skin breaks,
this sweetness like a faceful of light.
Poems and fiction by Raymond Philip Asaph have appeared in Poetry, Glimmer Train, London Magazine, Mississippi Review, The Humanist and others, and the good fortunes here have included a grant from the Vogelstein Foundation, a Stadler Semester to Bucknell University, a graduate fellowship to NYU and twenty years of teaching poetry, fiction and nonfiction. As per one of his mother's last requests, he signs his work with the birth-name, Raymond, but goes by Philip when he's off the page and in personal correspondence.