Page 1 Page 2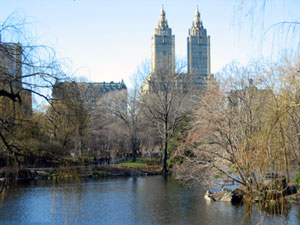 It was in the cafeterias of these cultured temples that I had the opportunity to observe many world travelers. Weren't they interesting as they confidently sought vacant tables, to sit with their bottles of 2006 Chardonnay, or deposit empty trays? Always well groomed and well dressed. And if the language could be followed, the conversations were highbrow, never sports or television.
I visited Grand Central Terminal railroad station and silently thanked the late Jacqueline Kennedy Onassis for preventing its demolition. I gazed at the ceiling, had lunch, imagined I was waiting for future friends, and purchased the New York Pass at the tourist booth.
London has the River Thames, and Manhattan has the Hudson, the Harlem, and East River. Even though Manhattan is an island, it still takes a day to realize that one is never far from a waterway. You can even spy water from Madison Avenue. I took the boat tour and cruised under some of the nine bridges. From the tour boat I noticed kayakers and thought that would be fun, to kayak to some of the islands in the Hudson. Possibly Governors Island? I gazed in admiration as we passed the Frank Gehry pleated skirt-like building located in the Chelsea neighbourhood. And I always thought Joni Mitchell was singing about the other Chelsea.
Back on dry land there are some idle destinations, if you happen to be passing, the architecture and history of which will mellow your day:
St. Bartholomew's Church (325 Park Ave at 51st Street)
The French Building (551 FIFTH AVENUE)
New York Library (455 5th Ave, New York)
One morning I headed for Greenwich Village by way of Washington Square Park. There I noticed some chess players as I fell upon the University of New York. I felt quite stimulated.
Knowing about the two baseball teams, the Yankees and the Mets, will yield a greater return in conversation indices than talking about jazz at Lincoln Center featuring Wynton Marsalis. Likewise, it comes in handy knowing about the merits of New York's hockey team, the Rangers. Tennis people all have heard of the Arthur Ashe Stadium in Flushing Meadows. New York also has two football teams, the Jets and the Giants. For basketball it's the Knicks. The Bulls are their soccer team, and they play at the Red Bull Stadium. I think a better name for the Bulls would have been the Lower East Wanderers or Bronx Hotspur. And finally, knowing when the New York Marathon will be may not be important for all New Yorkers, but it is an important event for many of my running buddies.
By the end of my visit I'd caught the one day extra syndrome. If only I had one more day… I would visit the Frick Collection. Walk or cycle across the Brooklyn Bridge. Take the Staten Island free ferry ride. Maybe a day at the races would be different; I could visit the Aqueduct Race Track in Queens. I would seek out a game of chess in Washington Square. Of course, kayaking on the Hudson. A nice cup of tea in New York would be charming. Looks like I will need more than one day!
Page 1 Page 2
Pages: 1 2
John Joyce was born at Hampton Court in England. He held school records for running the mile. He was educated in London and Salford, Lancashire, where he gained an honours degree in electrical engineering. Subsequent studies have been at Dalhousie University, University of British Columbia and Capilano College. John Joyce started writing philosophy at school and has been extensively published. "Moniques's Interview" was his first short play, and "Going Standby" is his latest. He departed England for Montreal to go around the world, living at different times in Montreal, Toronto, Ottawa and Dartmouth. He resides in Vancouver, Canada with his wife, Diane. Altus Arts Agency promotes his works worldwide.