Page 1 Page 2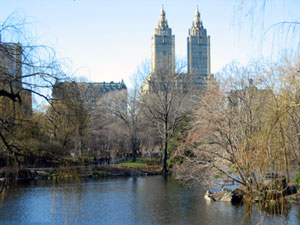 Like it or not, New York is in our ether. Many songs, plays, books, and films perpetuate the allure of New York. I recently visited Manhattan to explore its mystique and not spend too much on accommodation.
Before travelling I decided it would be wise to know which of the three airports I was going to arrive at: John F. Kennedy, La Guardia, or Newark Liberty International. I landed at Newark and took a bus to the Port Authority Bus Terminal. It also helps to know the street grid system; I stayed at 59 West 46 Street, which is off Times Square.
"An Englishman in New York," by Sting, is one of my favourite songs, since it entices the British part of me to compare New York with London. Times Square reminded me of Piccadilly Circus with people shooting photographs and sitting on steps. Piccadilly Circus has a memorial fountain and statue of an archer, popularly known as Eros, and Times Square has a statue of George M. Cohan, the composer. Both places are renowned for digital advertisements and the theatre world.
From the Visitor Centre at Times Square you can buy discount theatre tickets and start a walking tour. I suppose one could arrange a rendezvous there, but not at the Virgin Megastore, since it no longer exists. The Port Authority Bus Terminal or Grand Central Terminal would be better places to meet, though, since there are fewer people.
I couldn't imagine driving in New York, even though many people do. I couldn't imagine cycling in New York either, even though some people do, like David Byrne of Talking Heads. I walked a lot and used buses and trains but not the A-Train.
While going about, I spied many interesting things. In particular, I was curious about the distinctive water towers I saw perched on the tops of buildings. I later learnt they were built up there, because it was once difficult to generate the necessary water pressure for the uppermost floors.
There were people everywhere, often quite fashionably dressed, going about their business with confidence and poise. Some smoked while huddled around the entrances of the buildings, the windows of which don't open. Others merely stood in the centre of the street, hailing yellow taxis.
New York seemed to have no distinctive smell, unlike other cities. In London, for example, one can smell the River Thames from almost any location.
The city is, of course, noisy, but not excessively so. It takes trams to really increase the soundscape. Maybe I should have listened to John Cage's silence 4'33" while I was there?
It wasn't long before I was in a quandary about New York. Why would anyone want to live in such a crowded city? A city where no one can open windows! It doesn't have the history that most European cities do, nor the character of London. The ostentation of the rich and famous ascends with the acquiring of an apartment on 5th Avenue or somewhere overlooking Central Park. Why? I found my answer in the Metropolitan Museum of Art.
At the Met I spoke with a woman whose sketching group was doing justice to Bernini's Statuette of Saint Agnes. The latter was looted from some Italian villa by Napoleon's boys and somehow escaped J. Paul Getty's Associate Director for Collections. Any day now I'm expecting to read an Italian court seizure notice on this artifact. She said, "New York is all about people. So many beautiful places in the world are boring, but New York has interesting people. It's the people that create its energy." Well, I figured, since I was in New York, I would deem myself to be one of these "interesting people," and from then on I began to truly enjoy its many allurements.
One of them was the Solomon R. Guggenheim Museum on 5th Ave, where I soaked in a Kandinsky exhibition and ignored the notion that this building, designed by Frank Lloyd Wright, was actually more interesting than any of its exhibitions. I also visited the Museum of Modern Art (MoMA), where there is a sculpture of a New York Water Tower by the British artist Rachel Whitehead. Coincidence?
John Joyce was born at Hampton Court in England. He held school records for running the mile. He was educated in London and Salford, Lancashire, where he gained an honours degree in electrical engineering. Subsequent studies have been at Dalhousie University, University of British Columbia and Capilano College. John Joyce started writing philosophy at school and has been extensively published. "Moniques's Interview" was his first short play, and "Going Standby" is his latest. He departed England for Montreal to go around the world, living at different times in Montreal, Toronto, Ottawa and Dartmouth. He resides in Vancouver, Canada with his wife, Diane. Altus Arts Agency promotes his works worldwide.