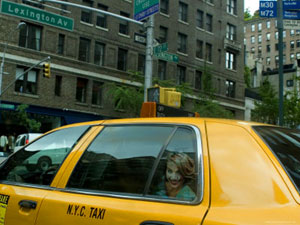 We don't have to hate
all people
at all times.
Maureen is a funny woman.
She takes my taxi just to
have an audience.
She tends to talk on and on.
She has no friends,
just a cat
who drools.
She has no physical coordination
at all
and is the butt of
everybody's jokes
even her
own.
It has been that way
since she was a child.
Now she's a 41-year-old nurse
who can make fun of
herself,
which is something even most
saints can't do.
Mather Schneider's mother told him he was born in the middle of the night during the worst snow storm of the year. This was back in Illinois. He is now a cab driver in Tucson, which is forty-five minutes from Mexico, in the Sonoran Desert. He has no girlfriend, pet, or university degree, but he has a chapbook, Poormouth, available from Interior Noise Press at
myfavoritebullet.com
. His poems have appeared in the small press for about ten years.