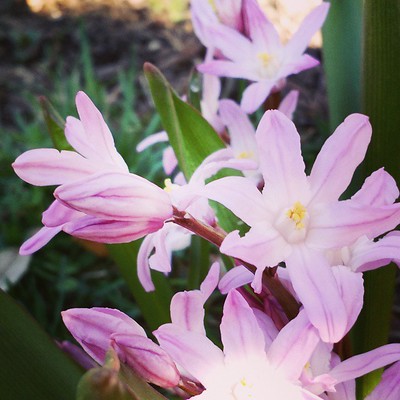 A lot has happened since an issue of Wild Violet last came out, but we are back! In the spirit of renewal, this week's contributors offer fresh eyes on ordinary things.
"All these peach blossoms" by Ayaz Daryl Nielsen evokes the rebirth of spring.
"Only You Could Catch Me" by David Sapp recalls the memory of a childhood rescue.
"Crows and dragonflies" by Ayaz Daryl Nielsen examines the inspiration of nature.
If you are a contributor who prefers to send submissions via the postal service, use our new address:
Wild Violet
P.O. Box 887
Havertown, Pa. 19083-9998
Alyce Wilson is the editor of
Wild Violet
and in her copious spare time writes humor, non-fiction, fiction and poetry and infrequently keeps
an online journal
. Her first chapbook,
Picturebook of the Martyrs
; her e-book/pamphlet,
Stay Out of the Bin! An Editor's Tips on Getting Published in Lit Mags
; her book of essays and columns,
The Art of Life
; her humorous nonfiction ebook,
Dedicated Idiocy: How Monty Python Fandom Changed My Life
, and her newest poetry collection,
Owning the Ghosts,
can all be ordered from her Web site,
AlyceWilson.com
. In late 2019, she published a volume of poetry by her third great-grandfather,
Reading's Physician Poet: Poems by Dr. James Meredith Mathews,
which also contains genealogical information about the Mathews family. She lives with her husband and son in the Philadelphia area and takes far too many photos of her handsome, creative son, nicknamed Kung Fu Panda.