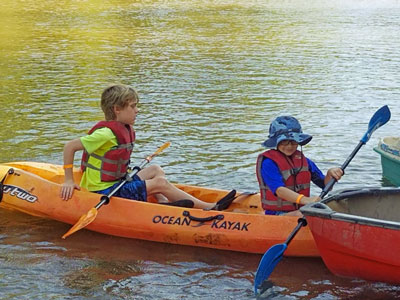 April is National Poetry Writing Month, and many poets like to challenge themselves to write a poem a day. With that in mind, Wild Violet will be sharing poetry prompts each day: one geared towards adults and one for kids.
If you write a poem based on this prompt, feel free to share a link to your poem, or the poem itself, in the comments. Poems appearing in the comments are not considered published in Wild Violet, and you retain all rights to your work.
First
For adults:
Reflect on your past today, in particular the first time you experienced something. You might write about something from childhood, such as the first time you saw an ocean. Or you might write about a memory from adulthood, such as the first time you cooked a meal for someone else. Think about the details that will bring that moment alive for the reader, or keep the poem compact and strikingly sparse. For examples, read "First Night" by D. Nurkse, "First Anniversary, With Monkeys" by Aimee Nezhukumatathil, and "First Love" by Jan Owen.
For children:
Try writing a poem based on something important that happened to you. Think about the first time you did something, or the first time you felt something. Share your thoughts, feelings, and details about that experience. You might write about the first time you rode a bike, or the first time you saw a movie in the theater, or the first time you saw a mountain, or the first time you told a joke. You can make it serious or funny.
First Time Paddling a Canoe
(as told to me by my son)
The boat was shallower than I expected.
My buddy Daniel sat in the back, to steer.
"You can do it," he told me,
so I put my paddle in the warm lake
and when he said, "Start rowing,"
I pulled it through the water
and we slid forward.
Alyce Wilson is the editor of
Wild Violet
and in her copious spare time writes humor, non-fiction, fiction and poetry and infrequently keeps
an online journal
. Her first chapbook,
Picturebook of the Martyrs
; her e-book/pamphlet,
Stay Out of the Bin! An Editor's Tips on Getting Published in Lit Mags
; her book of essays and columns,
The Art of Life
; her humorous nonfiction ebook,
Dedicated Idiocy: How Monty Python Fandom Changed My Life
, and her newest poetry collection,
Owning the Ghosts,
can all be ordered from her Web site,
AlyceWilson.com
. In late 2019, she published a volume of poetry by her third great-grandfather,
Reading's Physician Poet: Poems by Dr. James Meredith Mathews,
which also contains genealogical information about the Mathews family. She lives with her husband and son in the Philadelphia area and takes far too many photos of her handsome, creative son, nicknamed Kung Fu Panda.