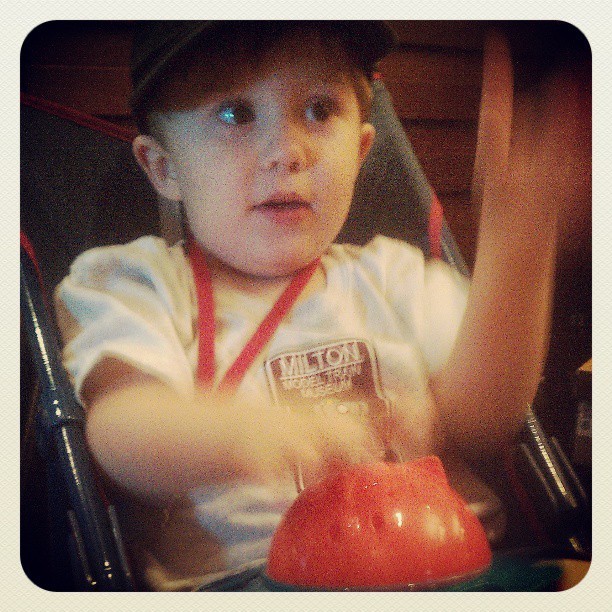 April is National Poetry Writing Month, and many poets like to challenge themselves to write a poem a day. With that in mind, Wild Violet will be sharing poetry prompts each day: one geared towards adults and one for kids.
If you write a poem based on this prompt, feel free to share a link to your poem, or the poem itself, in the comments. Poems appearing in the comments are not considered published in Wild Violet, and you retain all rights to your work.
"How To" Poem
For adults:
In our daily lives, we read instructions without thinking about them. Whether it's a recipe or a guide to putting together a piece of furniture, when we see the words "how to," we expect clear, bland prose. That is what gives a "how to" poem the power to be so extraordinary: by subverting the reader's expectations. Instead of something dry and matter-of-fact, give them something meditative, or surprising, or fun. Write a "how to" poem about an ordinary task or something unexpected. For examples, read "How to Spend a Birthday" by Lee Herrick, "How to Love Bats" by Judith Beveridge, "How to Move Away" by Lynn Pederson and "How to Be a Poet" by Wendell Berry.
For children:
You can turn almost anything into a poem, even the most ordinary thing. Write a poem about how to do something you do every day, such as how to eat breakfast, how to walk a dog, or how to read a book. But instead of sticking to the actual directions, get creative. Use surprising language, or unexpected imagery. Or imagine what it would be like to do that task inside a dream, or on an alien planet. Take those ideas and write your "how to" poem as if you're instructing another person.
How to Wait
Find something to thump. Something loud,
with a big round sound. Like an empty bucket
or a water bottle, bopped on the table edge.
Bounce to the rhythm of your bumping music.
Make sure everyone can see how
not worried you are.
Take your shoes off.
Thump them, too, on the table,
walking away, like you would, too,
if you weren't waiting.
Alyce Wilson is the editor of
Wild Violet
and in her copious spare time writes humor, non-fiction, fiction and poetry and infrequently keeps
an online journal
. Her first chapbook,
Picturebook of the Martyrs
; her e-book/pamphlet,
Stay Out of the Bin! An Editor's Tips on Getting Published in Lit Mags
; her book of essays and columns,
The Art of Life
; her humorous nonfiction ebook,
Dedicated Idiocy: How Monty Python Fandom Changed My Life
, and her newest poetry collection,
Owning the Ghosts,
can all be ordered from her Web site,
AlyceWilson.com
. In late 2019, she published a volume of poetry by her third great-grandfather,
Reading's Physician Poet: Poems by Dr. James Meredith Mathews,
which also contains genealogical information about the Mathews family. She lives with her husband and son in the Philadelphia area and takes far too many photos of her handsome, creative son, nicknamed Kung Fu Panda.