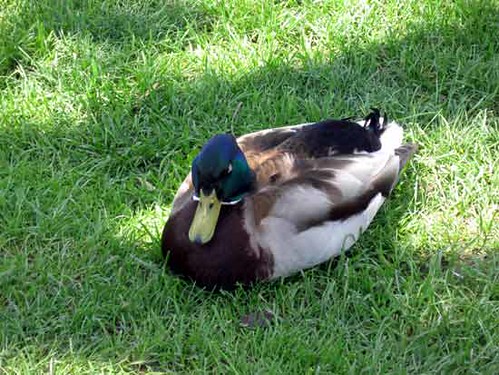 April is National Poetry Writing Month, and many poets like to challenge themselves to write a poem a day. With that in mind, Wild Violet will be sharing poetry prompts each day: one geared towards adults and one for kids.
If you write a poem based on this prompt, feel free to share a link to your poem, or the poem itself, in the comments. Poems appearing in the comments are not considered published in Wild Violet, and you retain all rights to your work.
Dream Poem
For Adults:
In dreams, our imaginations soar, providing ample fuel for poetry. Today, think back to a dream you've experienced — recently or in the past — and use that to inspire a poem. If you don't tend to remember dreams, let your imagination fly to far-fetched lands and write about what you find there. You can begin with the phrase "I dreamed" but then consider crossing out that portion later. Personally, I feel that dream poems are stronger when they read like something that really happened, partially because we're so accustomed to devaluing dreams. For an example of dream poems that only mention the dream aspect in the title, read "Birds Appearing in a Dream" by Michael Collier or "The Song in the Dream" by Saskia Hamilton.
For Children:
Dreams can be silly and fun, or sometimes even thoughtful. Whether or not you can remember a dream that you have, you can use the following steps to write your own dream poem.
In the first line, begin by writing, "I dreamed" and then finish the thought. What was the dream about?
Use the next few lines to describe the dream. What happened? How did things look and sound?
Include a line about how the dream made you feel.
End with a final thought: maybe something you learned from the dream, or something the dream makes you wonder.
Here's an example, based on a dream I had when I was a little girl.
The Duck Dream
I dreamed that ducks were eating giant holes in me.
They walked around my living room, quacking.
Through the holes in my stomach, I could see the wall.
You'd think it would hurt, but it didn't.
I guess I should have been afraid,
but all I kept thinking was, they must be really hungry.
Alyce Wilson is the editor of
Wild Violet
and in her copious spare time writes humor, non-fiction, fiction and poetry and infrequently keeps
an online journal
. Her first chapbook,
Picturebook of the Martyrs
; her e-book/pamphlet,
Stay Out of the Bin! An Editor's Tips on Getting Published in Lit Mags
; her book of essays and columns,
The Art of Life
; her humorous nonfiction ebook,
Dedicated Idiocy: How Monty Python Fandom Changed My Life
, and her newest poetry collection,
Owning the Ghosts,
can all be ordered from her Web site,
AlyceWilson.com
. In late 2019, she published a volume of poetry by her third great-grandfather,
Reading's Physician Poet: Poems by Dr. James Meredith Mathews,
which also contains genealogical information about the Mathews family. She lives with her husband and son in the Philadelphia area and takes far too many photos of her handsome, creative son, nicknamed Kung Fu Panda.