Page 1 Page 2 Page 3 Page 4 Page 5 Page 6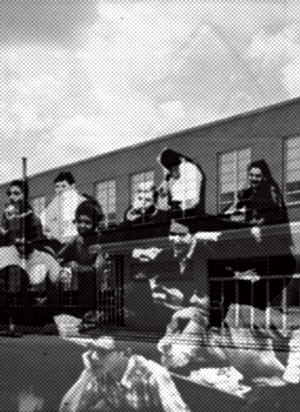 After hopping the 23 trolley on Germantown Avenue Friday, I looked out the window to the street and wondered how the black people outside felt as they walked, talked, went about their mornings. Had they lost an irreplaceable leader, or had King's moment already been outpaced and replaced by less moderate voices in the Civil-Rights struggle, as news commentators declared the night before?
I passed Walter on the way into the building and grinned at him. He waved, but no smile. Shit, I thought. I didn't kill anyone.
At first, all seemed cool inside. We had assembly to kick off the day, and when the principal, Nathan Lee, stood before us and addressed the situation, I felt proud—there were riots elsewhere, but it wouldn't be like that for us.
"There have been some horrible things going on in our country over the past 24 hours," said Lee, a tall, powerful black man with a soft-but-firm voice. "We are sad in our hearts over the slaying of Dr. King, but he left a legacy, work for us to carry on, and, here, too, we have work to…"
Whatever Lee planned to say next, I never knew, because at this point, a bulky black teen stood and shouted his two-word piece.
"Get whitey!"
I looked around for a second or three, saw a few other black guys stand as well, waited long enough to see one pound on the nearest white boy, who hit the floor, got up, and beat it on down the line and out of the auditorium.
No one was reaching out to smack me, but still a not-so-little voice in my head said, no one here knows or cares about your politics right now. Get the fuck out of here.
And so, battling equal doses of embarrassment at running and fear of getting pummeled, I raced up Germantown Avenue, where I wound up inside an old Corvair driven by a kid from my home-room. It was filled past its limit, but given my skinny frame, I squeezed into the backseat, where several other scared white kids bantered on, including one who used the name "Martin Luther Coon."
"That's just the kind of talk that…" That's as far as I got with my liberal screed. After all, I made the inside of the car. I silently boasted that I didn't feel that way. There was understandable rage out there, and we were in the crossfire.
The weekend was equally eye-opening and mouth-shutting: My parents toted my sisters and I to Washington, D.C., for a long-planned visit with my grandmother, whose apartment was accessible only from a road battered by riots set off by the assassination; smoke smells wafted into our Impala, but that was all—whatever violence went on, went on without us.
Page 1 Page 2 Page 3 Page 4 Page 5 Page 6
Stuart Michaelson is a semi-retired journalist and Philadelphia native. He spent 22 years working on newspapers in the Philly area, Connecticut, and New Jersey as a reporter, editor, columnist, and supervisor, as well as more than a decade at TV Guide magazine, where he contributed to three books on television history. He started writing fiction in 2017, and had a short story published in 2018 in the Schuylkill Valley Journal. Apart from writing fiction, as well as part-time freelance non-fiction, he spends his time reading political and rock-music bios, listening to CDs, and watching old TV shows, ranging from Lost to such escapist fare as "Melrose Place."