Page 1 Page 2 Page 3 Page 4 Page 5 Page 6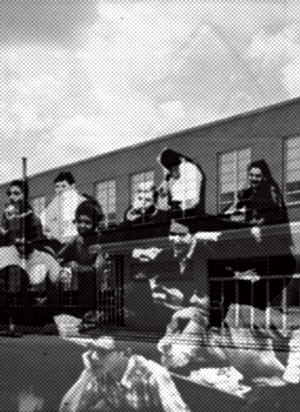 "This is important," my buddy Walter bellowed one lunchtime across the chatter and clatter of Germantown High School's vast cafeteria. "And I can only say it once."
The topic that day in 1965 was color—specifically, orange, the hue of a stack of cheese crackers piled high and majestic near the cash register.
I'd questioned the wisdom of paying for food we each had access to at home, albeit connected to peanut butter in the form of Lantz snacks. Why buy them when we have them in our kitchens?
"These crackers," the tall, handsome 10th grader said in stentorian tones that always impressed me, even when marshalled for nonsense, "offer a moment that may never be ours again. By the time you get home, even if the crispy morsels are as wondrous as these, and even if you can wedge them off the distracting influence of peanut butter, you may not be open to their beauty the way you are now."
He waved his muscular arms wide and drove home his point.
"Something may steal your full attention—your screaming sisters, homework, whether to obsess about Sandy Miller's legs when you celebrate yourself tonight. The opportunity may well be gone—and woe be to you if it passes."
Overwhelmed by Walter's deep-voiced, deep visions, more smitten than ever by the orange-tinted stack, I bought a quarter's worth, which I shared with the orator—his intent, I suspected, all along—on the way back to our table, where I countered his eloquence with a digression about Dick Allen, the slugging, outspoken Phillies star who divided opinion among Philadelphians, heavily broken down by color, or, in the case of white baseball fans, racial attitudes.
To young people, black or white, especially white, as counter-cultural feelings started to mount in the '60s, the strong-willed black third-baseman represented the future, when anti-authoritarian heroes would have their day.
To older people, he was a troublemaker, and to older whites, especially, a guy who should know his place and be grateful to earn big money playing a kid's game.
"My dad and I, May 29, I will never forget it, Walter…"
"Never forget something that happened a few months ago, Stuart?"
"Don't ruin my story. Dick slammed a homer over the Coke sign on top of the bleachers, 529 feet, and it left the park in a flash…whoosh…gone. Everyone was quiet for a second, it happened so fast, flick of his wrists, boom, and then…"
"Everyone went nuts. I've heard this before, Stuart. Save the dramatics for the Cliveden Clipper."
"Don't' make fun of the school paper, Walter. Writing's the only skill I have. Haven't got Allen's wrists."
"Or his color, man." Walter pointed to his own skin, on his forearm. "You can't ever know what that's about."
"True." I finished my crackers, minus the few he snagged. "I can't. Though you can't know what it's like to Jewish."
Page 1 Page 2 Page 3 Page 4 Page 5 Page 6
Stuart Michaelson is a semi-retired journalist and Philadelphia native. He spent 22 years working on newspapers in the Philly area, Connecticut, and New Jersey as a reporter, editor, columnist, and supervisor, as well as more than a decade at TV Guide magazine, where he contributed to three books on television history. He started writing fiction in 2017, and had a short story published in 2018 in the Schuylkill Valley Journal. Apart from writing fiction, as well as part-time freelance non-fiction, he spends his time reading political and rock-music bios, listening to CDs, and watching old TV shows, ranging from Lost to such escapist fare as "Melrose Place."