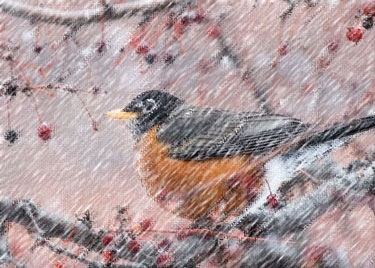 Spring came early this year,
the robins arrived in February
and the great mulberry tree
began to develop its harvest
before spring thought itself able.
We wondered why so many nests
and so many birds found themselves
in the branches, but it did not matter—
there were enough for all of us
even after the week long rain,
the cold spit, the great frost,
mulberries everywhere,
enough food for a season
a season too soon.
Michael H. Brownstein has been widely published throughout the small and literary presses. His work has appeared in The Café Review, American Letters and Commentary, Skidrow Penthouse, Xavier Review, Hotel Amerika, Free Lunch, Meridian Anthology of Contemporary Poetry, The Pacific Review, Poetrysuperhighway.com and others. In addition, he has nine poetry chapbooks including The Shooting Gallery (Samidat Press, 1987), Poems from the Body Bag (Ommation Press, 1988), A Period of Trees (Snark Press, 2004), What Stone Is (Fractal Edge Press, 2005), I Was a Teacher Once (Ten Page Press, 2011), Firestorm: A Rendering of Torah (Camel Saloon Press, 2012), The Possibility of Sky and Hell: From My Suicide Book (White Knuckle Press, 2013) and The Katy Trail, Mid-Missouri, 100 Degrees Outside and Other Poems (Kind of Hurricane Press, 2013). He is the editor of First Poems from Viet Nam (2011).