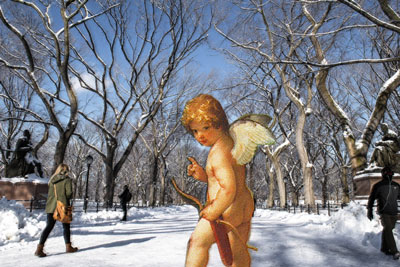 A gentleness in the lavender of touch,
Soft against another, sheets
Organically cool blue with a touch of cloud.
One day Cupid wakes to find his arrows stolen
Enters earth on footed wings.
Angry and puzzled, he finds them
In a park near a grove scattered and dull,
One shaft broken. In the trees he hears joy,
Good wine, beauty, a whisper of lips.
How trite. One lover fingering the palm of another,
A message so secret everyone knows its depth.
Touch comes in color, it's that easy.
Cupid leaves with everything he has lost
Bits of his anger clinging to the grass
Flowering into large bosoms of rose,
Rosemary, lilies of the field, golden tulips,
A naturalness of water falling from a ledge,
Warm and comforting, trite like a French kiss.
Michael H. Brownstein has been widely published throughout the small and literary presses. His work has appeared in The Café Review, American Letters and Commentary, Skidrow Penthouse, Xavier Review, Hotel Amerika, Free Lunch, Meridian Anthology of Contemporary Poetry, The Pacific Review, Poetrysuperhighway.com and others. In addition, he has nine poetry chapbooks including The Shooting Gallery (Samidat Press, 1987), Poems from the Body Bag (Ommation Press, 1988), A Period of Trees (Snark Press, 2004), What Stone Is (Fractal Edge Press, 2005), I Was a Teacher Once (Ten Page Press, 2011), Firestorm: A Rendering of Torah (Camel Saloon Press, 2012), The Possibility of Sky and Hell: From My Suicide Book (White Knuckle Press, 2013) and The Katy Trail, Mid-Missouri, 100 Degrees Outside and Other Poems (Kind of Hurricane Press, 2013). He is the editor of First Poems from Viet Nam (2011).