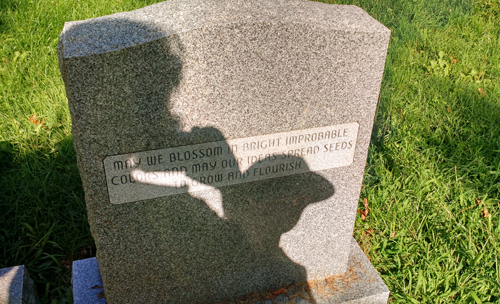 The last thing left is this slab of stone dead
Cold, numbered and lettered rising
From the earth's brown green grass,
Dead flowers in bright bouquets with plastic
Stems and petals pink, orange,
Torn, faded, wind, rain, saboteurs.
Every now and then someone comes
And comforts the stone, lays a hand across it,
Traces numbers and letters with a finger.
Someone cuts away the weeds, finds new
Pieces of plastic, cleans up the debris.
Here the House of Job. The House of Sisyphus.
The Mansion of Worry and Sometimes Worse.
Michael H. Brownstein has been widely published throughout the small and literary presses. His work has appeared in The Café Review, American Letters and Commentary, Skidrow Penthouse, Xavier Review, Hotel Amerika, Free Lunch, Meridian Anthology of Contemporary Poetry, The Pacific Review, Poetrysuperhighway.com and others. In addition, he has nine poetry chapbooks including The Shooting Gallery (Samidat Press, 1987), Poems from the Body Bag (Ommation Press, 1988), A Period of Trees (Snark Press, 2004), What Stone Is (Fractal Edge Press, 2005), I Was a Teacher Once (Ten Page Press, 2011), Firestorm: A Rendering of Torah (Camel Saloon Press, 2012), The Possibility of Sky and Hell: From My Suicide Book (White Knuckle Press, 2013) and The Katy Trail, Mid-Missouri, 100 Degrees Outside and Other Poems (Kind of Hurricane Press, 2013). He is the editor of First Poems from Viet Nam (2011).