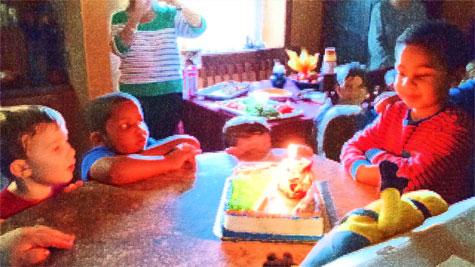 This week, Wild Violet's contributors focus on that fuzzy, confusing time between childhood and adulthood.
In her poem "Last Witness to My Childhood," Jacqueline Jules reflect on life with a disabled sister.
John Woodington's story, "The Weightlifters," goes back to high school to show how it's possible to belong and be outsiders at the same time.
Eve Kenneally's poem, "Zayn Leaves One Direction, Teen Girl Twitter Universe Mourns," captures the repetitive chaos of modern teenage communications.
Alyce Wilson is the editor of
Wild Violet
and in her copious spare time writes humor, non-fiction, fiction and poetry, keeps
an online journal,
and is working on a book,
Belated Mommy: How to Cope With Being an Older Mom.
Her first chapbook,
Picturebook of the Martyrs
; her e-book/pamphlet,
Stay Out of the Bin! An Editor's Tips on Getting Published in Lit Mags
(which she plans to update this year); her book of essays and columns,
The Art of Life
; and her humorous nonfiction ebook,
Dedicated Idiocy: How Monty Python Fandom Changed My Life
, can all be ordered from her Web site,
AlyceWilson.com
. She lives with her husband and son in the Philadelphia area and takes far too many photos of her handsome, creative second grader, nicknamed Kung Fu Panda.