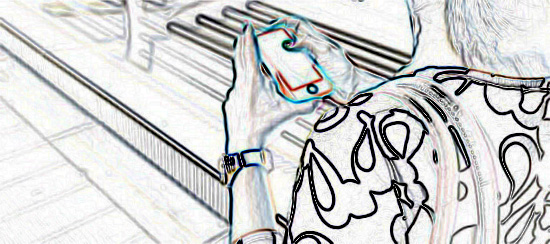 Though it's no mace, but cell phone in my hand,
I'd like to favor you. But I've a slew
of messages whose import countermand
desires of my awestruck retinue
who pass me with petitions on the street.
Because of this, I claim the royal right
to read my e-mail following a tweet
to devotees while you keep me in sight.
Indeed, not only are my hands not free,
but texting makes it difficult to turn,
acknowledging those holding doors for me.
Thus, I can't give the gratitude you yearn
for who suppose a royal highness grants
indulgence to her abject sycophants.
Frank De Canio is a maven of letters of the alphabet. Still being born in New Jersey, his cultural home is New York City, where he spends most of his waking time and where his search for Life's meaning and the origin of the universe has taken him from Avenue A in lower Manhattan to the upper Westside, with a few diversions to Brooklyn. Nonetheless he's written many sonnets (more sonnets than checks!) which he will continue writing until he gets them right. He loves music of all kinds, from Bach to Zap Mamma and Amy Winehouse. Shakespeare, Sylvia Plath, Ginsburg, Dylan Thomas are some of the writers he enjoys reading. He attends a philosophy workshop in Manhattan where people talk and eat Chinese food, and then go out to wash it (the philosophy) all down with a few drinks.