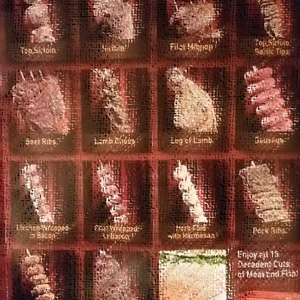 "Blessed are those servants whom the master finds awake when he comes." – Luke: 12:37
I text my girlfriend: "Maybe the menus are carved in stone."
A sophisticate in the waiting area talks on his cell, and gapes at a meat slab on a rotating spit. A teenage boy with jeans tighter than a court jester's leggings detaches from his phone and snorts as a meat-bearer—they call these guys "gauchos"—passes him.
Here at the bar, the carvings in the crown molding have all the refinement of a shore of bludgeoned seals. And that wainscoting? With the decorative edges? What century am I in?
I go to MCA's website to check out the latest exhibit. The hostess whose lips look like she's rubbed them on a newly-slaughtered calf interrupts me. "How do you like your Forzy? I just got the PM4."
Surprising. I thought she'd be communicating via oatmeal canisters and string, yet here she is with a Forzy one model ahead of mine. I cover my eyes and reach out. "I can't see. The light. It's bouncing off your face."
She laughs. It's okay: they pay her to flirt.
My girlfriend texts me back: "Growl 3x."
Surely the designer of this place would call the curving feature wall of faux stone "warm." I call it "worn." And the nubs that jut from the walls and ceiling make me think of a medieval torture chamber.
They give these places these sophisticated, foreign-sounding names, and they walk around with impaled meat. It's kind of like hanging a painting of a Nebraskan landscape in a contemporary art museum. You just don't do that.
I am a vegetarian, and, unfortunately, I am here, at a downtown Chicago Brazilian steak house called Chama Noite—that's Portugese for "Night Flame"—to celebrate Timmy's fortieth birthday.
Timmy and I are volunteer docents for the Chicago Architectural Guild. Most of those who go on our tours know of one architect: Frank Lloyd Wright, whose Prairie style continues to imprison the aesthetic judgment of the average Joe.
I spend over eight hours a day writing about design. You'd think I'd be somewhat of an authority on Chicago architecture, but you'd be surprised at how many accountants and housewives are also architectural critics eager to educate me.
Most of those on my tours come from the same type of communities about which I often write: the ones that try to recreate a past that never existed. And these tourists love to brag about their homes' antiquated styles: French Victorian, Georgian, English Tudor, and above all, Prairie. The word "humble" is often associated with the Prairie style, but in my experience, "humble" is to "Prairie style" as "chic" is to "Nebraska."
An agonizingly ornate gilded frame shackles the mirror behind the bar, and the wallpaper has an early American primitiveness.
Among the sophisticates at the bar are a woman interned with makeup, a pinstriped fat guy who must have discovered a time warp while bootlegging gin, and a guy with a huge belt and baggy pants—perhaps a stonemason, or a falconer—prepared to gorge themselves with filet mignon, ribs, and bacon-wrapped beef medallions until they can't walk.
I could be on my treadmill now, watching a film (something minus the explosions and special effects that these people no doubt require) on my 65-inch LED-LCD TV.
Timmy's in the toilet room, and none of the other docents are here yet. Ten of us were invited.
The guy in pinstripes drinks a beer—or maybe it's an "ale"—whose fonts look like they've been lifted from an 18th century bear baiting poster.
The stonemason/falconer wears Converse All Stars. Hey Susie, let's head over to the soda shop. He has a Forzy. Red. How cultivated. PM2, I think. My company hasn't given me a PM5 yet. Probably because I'm a writer in a visual field. A picture is worth a thousand words? People who say that usually suck at writing. The other day, Hank, one of our nearly illiterate PM5 bearers, expounded on the brick and copper detailing of his Arts and Crafts-style train station while devouring a bacon double cheeseburger. At least the station wasn't Prairie style.
Timmy, with the poise of a wooly mammoth, approaches from the other side of the bar. His stomach swells from a T-shirt he must have purchased at the gift shop. It says, "We shall have our meat!" He lifts three fingers from his Old Style to point at the crown molding. "Reminds me of Sullivan." He belches.
I often picture Sullivan staring into the toilet, drawing inspiration for his next ornate pattern. Perhaps Sullivan's buildings inspire one of my most popular tour questions: "There a bathroom round here?"
Douglas J. Ogurek's fiction appears in the
British Fantasy Society Journal, The Literary Review, Gone Lawn, The Milo Review, Wilderness House Literary Review,
and several anthologies. Ogurek is the communications manager of a Chicago-based architecture firm and has written over one hundred articles about facility planning and design. He lives in a Chicago suburb with the woman whose husband he is and a pit bull named Phlegmpus Bilesnot. Ogurek also reviews films at Theaker's Quarterly Fiction. More at
www.douglasjogurek.weebly.com
.