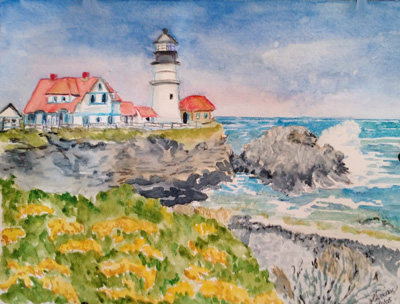 Lighthouse by Vivian Irene Starr
This week's issue is dedicated to my mother, Vivian Irene Starr, who died this month. She was a nature lover, was kind to animals, was a talented artist, and loved cooking and gardening. Her name meant "Bright peaceful star."
In "I Try to Forgive Your Absence, Facing the Snake in the Kitchen" by Laurie Klein, the speaker vacillates between compassion and practicality while dealing with pests.
"tiny fur snails" is a haiku by Donald Gaither, capturing a natural moment of transition.
"Violet Jelly" by Lyn Lifshin takes us inside the process of making a fanciful foodstuff.
"Late November" by Lyn Lifshin depicts a fall garden, tenderly "put to bed" by a gardener.
Alyce Wilson is the editor of
Wild Violet
and in her copious spare time writes humor, non-fiction, fiction and poetry and infrequently keeps
an online journal
. Her first chapbook,
Picturebook of the Martyrs
; her e-book/pamphlet,
Stay Out of the Bin! An Editor's Tips on Getting Published in Lit Mags
; her book of essays and columns,
The Art of Life
; her humorous nonfiction ebook,
Dedicated Idiocy: How Monty Python Fandom Changed My Life
, and her newest poetry collection,
Owning the Ghosts,
can all be ordered from her Web site,
AlyceWilson.com
. In late 2019, she published a volume of poetry by her third great-grandfather,
Reading's Physician Poet: Poems by Dr. James Meredith Mathews,
which also contains genealogical information about the Mathews family. She lives with her husband and son in the Philadelphia area and takes far too many photos of her handsome, creative son, nicknamed Kung Fu Panda.