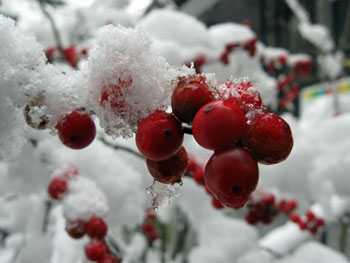 This week, our contributors contemplate Winter, the time when nothing seems to move but our thoughts.
Robert Rothman's poem, "Jungle," contrasts the body's reaction to cold with the internal furnace we all carry.
Andrew H. Oerke's poem, "Winter Love Scene," brings alive the ambivalence of love in wintertime.
Chad V. Broughman's flash-fiction piece, "Into the Light of Things," takes a chillingly tender look at the aftermath of a winter car accident.
Georgia Horesh's print, "White Wolf, Red Cardinal," shows the simple beauty of nature in winter.
Kimberly Gladman's poem, "The Frozen Alster," recalls a moment of recurrent regret, inspired by a frozen landscape.
Alyce Wilson is the editor of
Wild Violet
and in her copious spare time writes humor, non-fiction, fiction and poetry, keeps
an online journal,
and is working on a book,
Belated Mommy: How to Cope With Being an Older Mom.
Her first chapbook,
Picturebook of the Martyrs
; her e-book/pamphlet,
Stay Out of the Bin! An Editor's Tips on Getting Published in Lit Mags
(which she plans to update this year); her book of essays and columns,
The Art of Life
; and her humorous nonfiction ebook,
Dedicated Idiocy: How Monty Python Fandom Changed My Life
, can all be ordered from her Web site,
AlyceWilson.com
. She lives with her husband and son in the Philadelphia area and takes far too many photos of her handsome, creative third grader, nicknamed Kung Fu Panda.