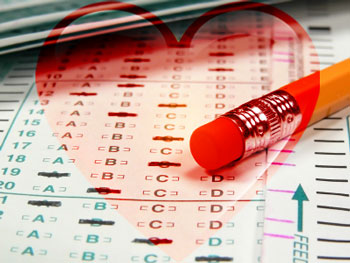 (for my daughter)
Love is SAT scores,
my neighbor says,
they have so much to do
with who meets who
on a college campus,
love now waiting in line
with suprising legions
of seventh-grade students,
your decision, not mine,
to take the early SAT,
this country's fingerprint,
the marks you make
whirl-whorl weak
and perhaps weeded-out,
or good, better, best,
ancient potency of phallus,
your girl-boy mind
wielding #2 pencil,
love somewhere inside you
as I am inside you
through life and death
we will enter together
the doors of others,
and some lucky one
will open your door,
find you waiting alone
for whatever comes next,
and I there, too,
a child in your lap,
ghost-like, quiet,
love in my eyes.
David Linebarger teaches Interdisciplinary Humanities and Comparative Religions at Northeastern State University in Tahlequah, Oklahoma, where he lives with his wife and two children. His poetry has appeared in numerous journals, including The Bitter Oleander, Borderlands, The Cider Press Review, Slipstream, and The Wallace Stevens Journal. He is also the author of a chapbook, War Stories, from Pudding House.