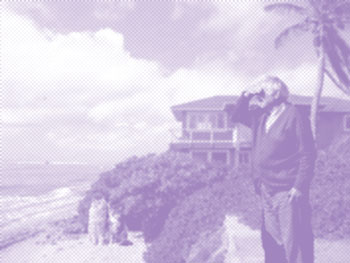 Old man in a near empty house
bridge port to the sea—
(mortgage foreclosure assured)
late in his payments to life,
sits in a lavender lawn chair
meant for picnics or poor people—
pillows stuffed under his bum
like layers of sponge cake.
He sits at a handmade wooden desk
he forged with his own hands
finished in lacquer with the edges
of his fingers tips.
He types prismatic words
forced together like a jagged
Japanese poem or something
resembling a Haiku forgery—
while 2 Persian cats,
Tambala and Shebelle,
meow constantly with passion
with pain, with hunger—
bowls empty, food dried, gone—
lying on the other side of the room.
Old man in a near empty house
bridge port to the sea,
buried in ivy near the sea
where no one ever goes,
when you expect them to.
---
Hear and see the poet reading "Old Man."
Michael Lee Johnson is a poet and freelance writer from Itasca, Illinois. Michael has been published in over 23 countries. He is also editor/publisher of four poetry sites, which can be found at his Web site:
Poetryman.Mysite.com
. His published works can also be found there. His books are available
on Amazon.com.
You can also now
watch him on YouTube
.