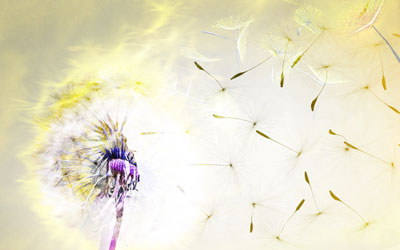 She has a dandelion seed in her hair.
He has a stem in his hand, turns to me and says,
"This is like a microphone,"
and starts singing
and then he flings it away—
we keep walking into the wind.
---
The fourth poem in the series, "Air," has been published by decomP magazine.
Born in the United States and raised in rural Ohio, A. Anupama's experience as a first-generation Indian-American woman gives a unique perspective to her writing. She is currently an MFA student at Vermont College of Fine Arts and received her BA in biological sciences from Northwestern University. She has been involved with medical publishing for the American Academy of Orthopaedic Surgeons and legal publishing for the American Bar Association. An attendee of the Hudson Valley Writers' Center fiction workshop with David Surface, She has worked with Ralph Angel, Leslie Ullman, and Jody Gladding, and has recently become a contributor to Número Cinq Magazine. She has brought her love of yoga, Indian cooking, science, photography, and nature to her poetry. Her work has appeared or is forthcoming in The Alembic, The Cape Rock, Diverse Voices Quarterly, Green Hills Literary Lantern, and Monkeybicycle. Her book, Kali Sutra Poems, was a semifinalist in the Annual Tupelo Press First/Second Book Award.