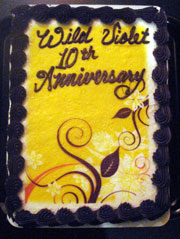 Thank you to everyone who made it to the Wild Violet 10th Anniversary Reading on Saturday, October 1 at MilkBoy Coffee in Ardmore, and special thanks to MilkBoy for hosting the event.
We had a good group of participants. Our readers were:
Charles Sanft
Charles Sanft is originally from Minnesota. He spends most of his time reading, writing, and talking with his wife.
He read some short essays, including a humorous essay inspired by ancient Persian decision-making processes.
Flash fiction – "Cicadas" (Vol. IX Issue 2 – Summer 2010 – Heat Wave)
Kathryn Nevin
Born in England, Kathryn Nevin has lived in the U.S. most of her life, completing undergraduate studies in English and Spanish Literature at Swarthmore College and obtaining a Master's in Social Work degree also. She has several poetry publications including the Swarthmore Falconer; Drexel Online Journal; Ometeca (a Spanish/English literary magazine); Susquehanna Review; and Wild Violet.
She read poetry about a death in the family and about the prison where she works.
Poem – "On Parole" (Vol. VII Issue 3 – Linked Lives)
Amy Barone
Amy Barone is the author of poetry chapbook, Views from the Driveway, from Foothills Publishing. The book was inspired by growing up in suburban Philadelphia, nights hanging out with musician friends, living in Italy, and the haunting redemption of dreams. Her poetry has appeared in Avanti Popolo, Gradiva, Wild Violet, Philadelphia Poets and several PoetWorks Press anthologies. A native of Bryn Mawr, Pennsylvania, Amy has lived in New York City since 1999 where she works as Director of Communications for Dr. Mehmet Oz's HealthCorps, a proactive health movement for at risk communities.
Amy Barone, a native of Bryn Mawr, read poetry based on her childhood and other life milestones.
Poem – "Felid Score" (Vol. VI Issue 3 – Mortal Coil)
Bernie Mojzes
Bernie Mojzes is the author of The Evil Gazebo, a short, illustrated book that is being rebirthed as a stage production later this year. He is also responsible for a passel of short stories that have or will appear in various anthologies and magazines, including Daily Science Fiction, Dead Souls, Crossed Genres and the Bad-Ass Faeries series, and is 50 percent of the editorial team at The Journal of Unlikely Entomology. Although he has on occasion been accused of committing Public Acts of Music and Philosophy, no charges were ever filed. He can be found at Kappamaki.com.
He read some creative non-fiction about moving into a house with a tragic past and an excerpt from his book, The Evil Gazebo.
Flash fiction – "Jumping Rope in Fitler Square" (Volume IX Issue 2 – Summer 2010 – Heat Wave)
Ben Heins
Ben Heins is the author of the forthcoming electronic poetry chapbook, Greatest Hits & B-Sides: 2007-2011 (Vagabondage Press). He will be graduating from Rosemont College in the spring of 2012 with an MFA in poetry.
He read some of his poetry, including a tribute to his poetry mentor and a piece for his dad.
Poem – "Haiku for Allentown" (Vol. VII Issue 2 – World Voyage)
Poem – "Where Len Lies" (Vol. VII Issue 3 – Linked Lives)
As the host of the event, editor Alyce Wilson read portions of her own poetry and a humorous essay, in between introductions. At the close of the official readers, the stage was opened up for an open mic, and Philadelphia area poet Mel Brake read one of his poems.
There was cake and door prizes, but Alyce's 15-month-old son missed out. He had to be taken home after refusing to stop stage diving onto the couch in the front row.
Alyce Wilson is the editor of
Wild Violet
and in her copious spare time writes humor, non-fiction, fiction and poetry and infrequently keeps
an online journal
. Her first chapbook,
Picturebook of the Martyrs
; her e-book/pamphlet,
Stay Out of the Bin! An Editor's Tips on Getting Published in Lit Mags
; her book of essays and columns,
The Art of Life
; her humorous nonfiction ebook,
Dedicated Idiocy: How Monty Python Fandom Changed My Life
, and her newest poetry collection,
Owning the Ghosts,
can all be ordered from her Web site,
AlyceWilson.com
. In late 2019, she published a volume of poetry by her third great-grandfather,
Reading's Physician Poet: Poems by Dr. James Meredith Mathews,
which also contains genealogical information about the Mathews family. She lives with her husband and son in the Philadelphia area and takes far too many photos of her handsome, creative son, nicknamed Kung Fu Panda.