Page 1 Page 2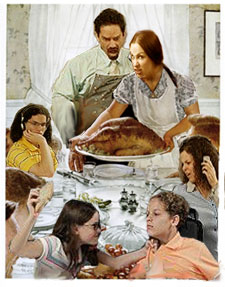 "How are you and Brad getting along these days, Amy?" Molly asked. "I never see you together."
"Me and Brad? Well, pretty much the same, Molly. The same —"
"Then for God's sake, Amy, GET DOWN TO THE SHELTER!" Molly shrieked.
"I can't celebrate another holiday at the shelter, Molly," Amy snapped. "People will think we're not trying."
"But each year you arrive here so bruised and browned, Amy," Molly said. "The shelter's not the end of the world. Everybody's been there at one time or another."
"We always get through it, Molly," Amy said. "We fight more now than we ever have, but we always manage to get through it."
"That's the least of my worries right now," Molly said. "I'm worried about seating everybody and keeping their lids on. Did you know that Marion threatened Harold if he ever left her? And I keep my Thanksgiving knives so well-honed and so temptingly displayed. THEY'VE GOT TO BE HANDY SO I CAN CARVE THE TURKEY, FOR CHRIST'S SAKE!"
Put off by Molly's second outburst, Amy hesitated.
"Have you figured out where you're going to sit, Amy?" Molly asked.
"We'll work things out, Molly," Amy said. "Let's get you settled — would you like me to drop by later today?"
"I wish I had your confidence, Amy," Molly said. "I get worked up. I've got two pairs of crossovers to monitor, two rentals from the streets who'll be screaming for Big Macs and fries, no blueberry pie, Brad's coming — Dear, I've never been able to brown a turkey, and last year you arrived here so evenly bruised and browned and sat so close to the turkey — you really can't point all your fingers at Bo Peep. Me, who slaves all day! — Amy, I'm sorry. You're not even going to feel welcome — you see what a state I'm in? And you haven't even told me yet where the hell you're going to sit!"
"Molly, are you sure you don't want me to come over?" Amy repeated.
"Let me finish, Dear. Please don't interrupt," Molly said. "And then when people see you, they gasp, What happened? While your damned rotisserie of a husband plays dumb and watches you take all the heat — ooh, I'm sorry. I really had no right to say such a lurid thing…"
"Should I drop by later, Molly? You seem terribly upset."
"Please don't interrupt, Dear, because all I want to do is put a jackhammer on Brad so he'll understand how you look — is he still insisting on coming?" Molly asked.
Another silence ensued, then: "Molly, Brad and I have also been invited to Carla's, if that'd be better," Amy said.
"That's such a long drive, Amy," Molly said quietly.
"Just twenty miles."
"Oh! Just next door! Well, Amy, if you change your mind at the last minute, you know you're still welcome here," Molly said. "but you should also know that Spencer keeps asking if Mr. Rugged is coming."
"Oh, God!"
"But you're welcome to come, though I can't imagine why you'd turn down an invitation to Carla's gorgeous home. I know I wouldn't," Molly said.
"It's just that those duets, their serenading afterward — you just can't get up and walk out in the middle —"
"Carla and Andy are a bit past their prime choir days, Dear," Molly agreed, "but their music's really not as bad as it sounds. Just wear some protection, and it won't bother you. We can chat about it next week, okay? Happy Thanksgiving, Dear."
Page 1 Page 2
Pages: 1 2
James Bellarosa has published three books of fiction, a novel and two short story collections. Altogether he has 200 publishing credits, 160 of which are short stories. He's a semi-retired accountant living with his wife, Jeannine.