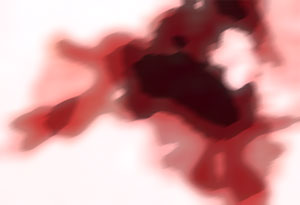 "… and the flagellant gathers his strength, his wounds burning, blood purging;
his tiresome spirit tightening."
And he's down to bare back,
the swish, as he walks,
of areca palms around his waist;
on his head, the flaming swell of hibiscus
on weedy greens. He's yoked
short, wooden sticks, crowned with iron points,
and bound with a leather leash,
the better for the scourge. In the air,
blood and sod fret the mangosteens to turn,
red fire thickening —
and you whisper, sweeter…
The ash-gold on the penitents' faces
glints off against the knife-tipped thongs,
the prickle stings sharpening
to the shimmer of fruits pressed out
of their bitter combustions. Deep husks
are pitched to the bark of cinnabars,
dragon blood ooze into the cups.
There are gates through which the boiling glut
must run, and you say: much sweeter.
So he works the hymns on his back,
no one hears the sear and smolder of skin,
the sweet sop spewing its smothered pips.
The flame trees overreach, as if to soothe
with their cold towel leaves. Yes,
you urge, sweeter, sweet.
He rises on his toes, whirls to the smack
of sticks, the crowd's canticles
sounding the greens grown deep, deeper
than he. Oh, the rapture of the mystic
from Avila, stabbed to the heart
by an angel's sword! It claws
for what's encrusted there that wants out.
Behold the hour when the fruits gush
with milk. Tongues shall eat of their suns.
Yes. From his crown,
a vermilion heart vaults, the bloom scored
succulent in the wet flame.
Rhodora V. Penaranda has poems published, or forthcoming, in The Innisfree Poetry Journal, Westerly Magazine, Cutthroat: Journal of the Arts, The Penwood Review, Diverse Voices Quarterly, Chronogram, Our Own Voice, and a story and poetry anthology collection, Field of Mirrors. She freelances for a textbook publishing firm in New Jersey and lives in the Hudson Valley, New York.