Page 1 Page 2 Page 3 Page 4 Page 5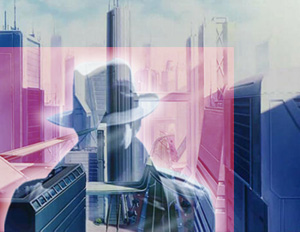 "He was 105 years old, Irving!" Kirker shouted in desperation, trying to stave off my crime-solving genius. "He had a heart attack!"
"How did you know Candy was in Granddaddy's will, Bambi?" I asked quietly. "Unless, perhaps, you saw the will yourself. Maybe while checking to see what your cut was, just before you bought him a one-way ticket to Never Ever Land."
Bambi broke under the pressure of my gritty questioning. "It's true!" she wailed, shaking with sobs. Everyone in the room grabbed for something to support them while the air shook with her tremors. "I killed him and tried to pin it on Candy!"
"You made just one mistake, Dollface," I said gruffly. "You hired Trigger Steel to solve the case. And Trigger Steel always does just that." I checked my watch. Solved the case in a less than 30 minutes, and still had time for a brief bout of intrigue. Not bad, Trigger.
"City monitors put you at lunch in a deli four miles from here when the heart attack occurred, Ms. Smith," Kirker said. "I think you're innocent."
"No one's innocent in this life, Kirker," I said while fixing Bambi with a withering glare. "No one."
"He's right, Mr. Kirker," Bambi sobbed. "He's right."
Kirker looked at both of us, gumshoe and goddess. "You're as delusional as he is, aren't you, Ms. Smith? You actually enjoy all this detective pulp nonsense?"
"Just take her away, boys," I said. "She's got a date with a judge and an electric chair."
Bambi kissed me suddenly, mashing herself against me. "I'm sorry, Trigger," she sobbed.
"You call me Mr. Steel."
"Or call him Irving Slechthauser, since that's his real name," Kirker muttered, ever the sore loser. "I'll take her away, but only so she can get some help. Go knows we don't need more of your type." He escorted Bambi to her destiny.
As for me, I left the Federal boys to clean things up. Let them get the kudos. I had a promise to keep to an old friend who was waiting patiently in a flask back at the office.
Behind my desk once more, Jim and I got intimate while I marked a folder "Bambi" and stuck it in the Case Solved file cabinet. I no sooner sat back down at my desk than a pair of stiletto heels walked into my office, carrying a set of legs genetically engineered for those heels. The owner of the gams stopped just short of my desk, and two dark pools of chocolate milk posing as eyes stared at me from under a long wavy curtain of raven hair. "I hear you solve problems, Mr. Steel," the slightly pouted lips breathed.
"You might say that, Angel," I said between pulls on my flask. "You just might say exactly that."
Page 1 Page 2 Page 3 Page 4 Page 5
Sean MacKendrick recently moved to Texas, where he works in finance and computer programming and lives under the watchful eyes of two cats. His first online publication was in Wild Violet in 2008, and his work has since appeared in a small number of online and print magazines and short story collections.