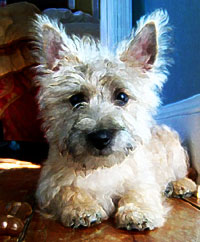 For Liberty
This three-month wheaten cairn's old soul
whose middle name might be Cajole
has sniffed out all my tick-tock past.
She's stopped the clock. Time's far surpassed
by all she does to entertain —
to coach my heart and limbic brain —
with capers played throughout the day
at which I am her protégé.
Leland Jamieson's two collections of poetry —
21st Century Bread
(2007), and
In Vitro: New Short Rhyming Poems Post-9/11
(2009), plus a guide for high school teachers and self-taught poets,
Making 'Metaphor' Poems
(2009) — can be found, with texts and videos, at
JamiesonsPoetry.com.