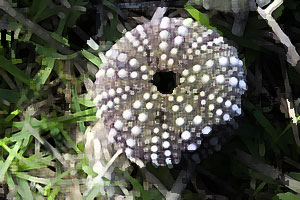 A goblet of
Ruby ichor,
Immortal quiet.
A long-necked
Jug, bedizened
With golden straw.
Peasant's summer plenty:
Bread, terrene-tan,
Green figs a-split,
Vulnerable.
Basket's silent meekness.
Dried sea anemones,
Stiff above.
A pied nautilus,
Fluted clamshell,
Perlucent sheath.
A starfish,
Dessicated.
Desperate.
Groping for the wet.
All still.
Still, life.
Still life.
Leonard H. Roller was born in New Jersey in 1928 and received a B.A. in journalism from New York University and a Master's of Arts in comparative literature from Columbia University. He has been an actor in New York City; a public relations executive in New York and Los Angeles, and conducted publicity and media relations activities for motion picture personalities such as Audrey Hepburn, Kirk Douglas, Joan Crawford, Paul Newman and others. He also served as a communications consultant (speaking, speechwriting, media relations) for such organizations as Lockheed, Mattel, Hilton and others. He has served as a French interpreter-translator for the U.S. Army in France as a non-commissioned officer for NATO. He has been a mountain climber, tackling summits in the American and Canadian Rockies and the Swiss Alps. He is the author of the training text, The Profits of Persuasion (International Resources, 1986) and has had poetry accepted by Ancient Paths, Love's Chance, The Oak, Timber Creek Review, Storyteller, Time of Singing, Thoughts of All Seasons, and The Lyric.