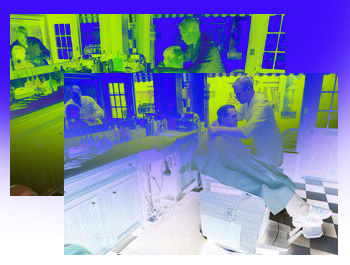 I went strolling down memory lane recently, sopping up memories like a warm biscuit in pot liquor. This part of the lane is in the town where I grew up, a small southern town near Dallas, not unlike Mayberry, North Carolina.
I suspect there were a few housewives — though I didn't know any — who washed their fine china and cleaned the parlor wearing pearls and starched aprons. It was peer pressure from June Cleaver at its prettiest. Most of the locals were Southern Baptist, who, at the time of his unleashing, thought Elvis was the antichrist. There were realists like Pop who just thought he had ants in his pants.
If anyone was more famous in north Texas than Big Tex at the state fair, or Doak Walker, the Heisman Trophy winner at SMU, it was the entire squad of Kilgore Rangerettes. Kilgore was a little oil town, a hundred miles east of Dallas . The locals got tired of counting money and decided to "doll up" the town, literally.
They opened up a junior college, spent a fortune on short skirts, cowgirl hats and boots, and put together the best high-kicking dance and drill team ever known to mankind, at least southern mankind. It was also the first. Girls from the South didn't aspire to be a Rockette; they aspired to be a Rangerette. If you had a face like Rita Hayworth and legs like Betty Grable, you had a chance. If you couldn't stand and kick your hat off with your boot, nothing else mattered.
Over between where the Western Auto used to be and the Big State Drug Store still stands, was Earl's Barbershop, where I had my first bought haircut and first paying job. It's also where I almost witnessed a homicide.
Back then a barber shop was an inner sanctum for the male gender — a place to exchange powder and perfume for male bonding, though we didn't call it that. I don't remember a "no girls allowed" sign, but everyone knew. It was a place to catch up on football, tools and raunchy jokes while awaiting a turn in the barber chair. On Saturday, we did a lot of catching up, since the wait was a millennium, maybe two. Earl seemed to enjoy talking and joking more than cuttin' hair.
My job opportunity came when Earl, in the presence of my father and me, mentioned the loss of yet another shoe-shine boy. I nudged Pop and whispered, "I can do that." With those four words I found myself gainfully employed — after school and all day Saturday. I was twelve, happy, away from girls, and no longer on the dole. It lasted less than two months.
One slow afternoon Earl was both "lowering" and "filling" the ears of a newcomer to the shop. I was sweeping up hair and paying little attention to what was said, a condition of employment. The middle-aged patron occasionally grunted a response.
A few minutes into the haircut, the postman arrived and handed Earl the day's ration of bills and junk mail, and a new wall calendar. Earl put aside his scissors and looked at the calendar, no doubt with a twinkle in his eye and a lascivious thought in his mind. Featured prominently on the front was the gorgeous, high-kicking captain of the Kilgore Rangerettes.
Unable to restrain himself, Earl slipped the calendar under the nose of the quiet man in his barber chair and began, "Isn't she gorgeous? Look at those long legs. Wow. Wouldn't you …?" With Earl in mid-sentence, the man interrupted and said calmly, "Yes, that's my daughter." Earl turned pale, teetered, stammered and fell silent.
Somehow he managed to get through the haircut, took the man's three bucks, and said, "Here, take the calendar." He left the shop, I assumed to get a change of underwear. Three or four more ill-advised words, and he might have had a close shave with his own straight razor.
Shortly after the incident, I decided to settle back into a less stressful environment and quit. I was on the dole again.
It wasn't all wasted time at Earl's. I learned a lot of useful things: like saddle soap wasn't just for washing saddles, and a good shine-rag was easy to pop. A "spit shine" was really a spit shine, and Shinola was a brand of shoe polish.
But there was a greater life lesson learned.
Should you get lucky enough to receive a calendar with a pretty girl on the cover and have the urge to express your innermost thoughts and feelings to a stranger, don't. If you can't restrain yourself, stay away from confined areas where sharp objects and glass bottles are within easy reach.
John L. Brazell is a native Texan and resides in the beautiful Hill Country near Austin, Texas. He's a retired corporate executive. A humorist by nature and avocation, he got his start in creative writing at age 8 when he was required to write on the chalkboard, "I will not talk in class" fifty times. He wrote, "I will not talk in class fifty times" and sat down. John is a member of several writing groups and has been published in e-zines, newsletters and newspapers, and community and corporate publications. His unfinished version of the next "Great American Novel" is entitled "The Unfinished Great American Novel."