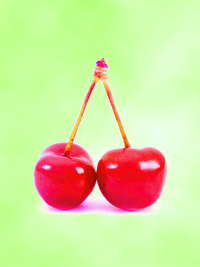 Two cherries, dimpled and cleft,
bright red, in a wishbone hanging.
Pick them, pick them not.
Transfixing beauty of a 1920s Italian aperitif ad,
lovers joined over a cool summer Campari.
But most are lonely, single, ripe,
waiting.
Pick the low ones first,
they are easy.
The proud ones, mature crimson,
at the top of the tree,
leave for the blue jays
who only come one at a time and don't take much.
Mike Lewis-Beck writes and gardens in Iowa City. He has been published in Albatross, Atlantic-Pacific Press, Blood Lotus Journal, Bun Fight Press, Daily Palette, Pennine Ink, Penwood Review, Poetic License, Poet's Ink Review, Stepping Stones Magazine, Waterways, Wapsipinicon Almanac, and Wild Goose Poetry Review. His novel, Death Walks the Riviera, was just published by Catstep Press.