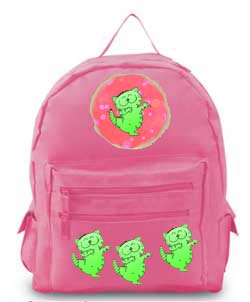 The arrangement we'd worked out, with the approval of the court, was for me to take my daughter for the afternoon. We would meet Sarah for dinner at five o'clock, after which Sarah would accompany us back to our hotel. I had rented an apartment-style suite that I hoped would give Amy Grace a sense of home, some sign of permanence. Sarah would stay until Amy Grace was asleep. We decided that we would both bathe her and then read one of her favorite stories together. A passing of the motherhood torch, so to speak. I was petrified.
Sarah helped Amy Grace with the obstinate zipper, then enveloped girl and pack in a bear hug. I could see that she was trying to make this life-changing transition as easy as possible for the frightened child. I wondered who would help me, the frightened mother.
Once again, Amy Grace's bony arms encircled the backpack. She looked at me, more resigned than frightened, a heart-breaking expression on the face of a four-year-old. Without releasing her grip, she raised two tiny fingers toward Sarah. I turned my back to wipe away my tears. When I held out my hand toward Amy Grace, she stepped back and shifted the pack so I could not reach it. I shrugged, picked up the child and her baggage, both literal and figurative, and walked to my car.
"Would you like to see some animals, Amy Grace?" I chirped as I struggled with the demonic system of buckles and straps that constitute children's car seats. The adoption agency's psychologist had recommended an indoor petting zoo because, she said, "there are lots of mothers with their babies there. It will give you a chance to talk with Amy Grace about this new relationship in a non-threatening way."
I wasn't sure I approved of her logic. Did I want my new daughter to look upon me as a nanny goat? Nevertheless, since I was required to stay in Minot one more night, it was something we could do together. Tomorrow morning, I would check in with the adoption agency, provide a full report on the first twenty-four hours with my daughter, then point my car south and never look back.
The drive to the petting zoo took twenty minutes. I chattered cheerily, glancing frequently in the rear-view mirror, hoping to see Amy Grace's dark eyes staring back at me. Instead, she had lain her head down on the pack, which had been transformed into a pink pillow. I wasn't certain if she was asleep, but I sincerely hoped so. This little person had many tattered sleeves of care that needed knitting.
My GPS, affectionately called "Rhonda" after the song "Help Me, Rhonda," safely guided Amy Grace and me to a barn-like structure on the outskirts of Minot. Getting out of the car seat proved almost as difficult as getting in, but we prevailed. This unlikely trio — Amy Grace, her backpack, and I — slushed our way across the semi-frozen parking lot toward a utilitarian "Tickets Sold Here" sign.
Walking with Amy Grace proved difficult. I couldn't persuade her to relinquish her death grip on the pack, so it was impossible to hold her hand. I compromised by gathering a fold of her jacket hood in my fist. Not perfect, but I knew enough not to force the issue this early in our relationship. I didn't yet know all the treasures the pack contained, but it didn't take a rocket scientist to realize how important the thing was to this oft-displaced child.
In this manner, with me gripping her hood like a dog's collar, we arrived at the ticket booth. The admission was $1 for me, free for Amy Grace. I wondered why they bothered with a cashier.
A skinny kid with a mild case of acne and a major case of attitude sat behind an old-fashioned iron grill. The last time I'd seen a ticket window like that was a train station scene in some western I watched with my nephew a few months earlier. The ticket taker had his baseball cap on backwards, a perfect accompaniment to the air of insolence that wafted like smoke through the slots in the grill.
"No backpacks." His tone of boredom bred with misplaced power set my teeth on edge.
"Excuse me?" My voice was as chilly as the North Dakota winter. Two could play the attitude game. "She's just a child and it is a tiny backpack."
"Doesn't matter. Put it in your car or check it here. Them's the rules. You owe me a buck."
I looked at my daughter. She hadn't cried when she'd said good-bye to Sarah Pennington and her comfortable home. Now tears leaked from her eyes, creating rivulets of sadness down her cheeks.
"Never mind," I said, delivering the edict with a spittle of annoyance, major annoyance.
Before I might use words that no mother should speak in front of a child, I guided Amy Grace back toward the parking lot. As we reached the curb, I felt a tug on my sleeve. I looked down to see one of Amy Grace's mittened hands reaching for mine. The pink pack swung loosely from the other one, keeping time with her jaunty skip-step.
This piece was the second-place winner in the 2009 Wild Violet Fiction Contest.
Susan Tornga lives and writes in Southern Arizona, surrounded by her beloved Sonoran Desert. Her short stories and articles have been published locally, as well as in such anthologies as Patchwork Path and Chicken Soup for the Soul. Her debut novel, ,i>Seashells in the Desert, an historical mystery set in Arizona in 1895, was published by Trebleheart Books in 2010.