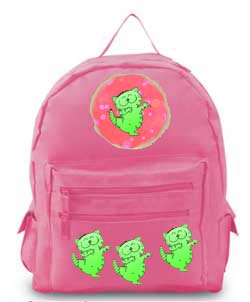 She clung to the backpack as if she could not endure the separation that strapping it across her back would entail. Stick-thin arms encircled the neon pink bundle with such force that I thought the contents would erupt like lava from a caldera.
My daughter — my heart knots at the word — was four years and three months old the day I met her, and I'm ashamed to admit that her pack was what the first thing I noticed, not the satiny tresses that cascaded in a black waterfall over her shoulders, or those enormous onyx eyes. I had yet to discover that one tiny scarlet shoe was missing a strap and that she wore only one sock.
"Amy Grace, I'm your new mommy."
The words were swallowed by my sobs, making my open-armed approach anything but reassuring. She hid behind her foster mother's legs much as a playful child might seek refuge behind a tree. Amy Grace was not playing. She gripped the pink pack even tighter, knuckles whitening against her dark skin. The psychedelic green kittens that danced across the pink background seemed to morph from playful to macabre with the pressure of Amy Grace's vise grip.
I looked at the woman-cum-tree trunk, contorting my face in a plea for assistance. Sarah Pennington, foster mother to Amy Grace Edmunds for the past six months, was fighting tears of her own. Amy Grace, however, did not cry. Instead, she peered at me, unblinking, from behind her fortress.
The Denver Police Department had signed my paychecks for almost twenty years. The first fifteen, I was a street cop, mostly on the night shift. Five years previously, I decided, with a total lack of rational thinking, to transfer to a desk job. My sleep-deprived brain figured that I would be more attractive to men if I was: a) available for evening dates and other such interesting entertainment and b) out of uniform, with no gun at my hip. So, I began pushing press releases across a metal desk and stepping up to a microphone every couple of days to assure the citizens of Denver that the DPD had the — pick one: robbery, murder, kidnapping, hit-and-run — well under control and was focusing extra manpower on the crime. I became a talking head.
Like many things in life, however, the change did not work out as planned. Prospects for a husband looked grim, and, anyway, I'd already had one of those and was in no hurry to repeat that disaster. What I hadn't had was a baby, and at 40, time was running out. I decided to adopt a child.
The Internet, cyberspace's big-bang explosion of technology and information, is both a blessing and a curse. Before I knew it, there were half a hundred adoption Web sites saved in My Favorites. Some encouraged me; many more depressed me. It wasn't just my age (borderline old), my health (breast cancer survivor — albeit of ten years) or my income (adoptions are expensive… very expensive). Web site after Web site rained negative information down on me. Adoptable children were few, babies almost non-existent. Unless I wanted to draw Social Security and lead a scout troop in the same year, I couldn't expect to specify age, sex or ethnic origin. By the way, the agencies admonished, send a check, with lots of zeroes.
Patience had never been one of my strengths, but I was determined to see this though. I persevered through two years of medical exams, psychiatric evaluations and Nosy Parkers sifting through my financial records. The mountains of adoption paperwork put the IRS to shame.
Susan Tornga lives and writes in Southern Arizona, surrounded by her beloved Sonoran Desert. Her short stories and articles have been published locally, as well as in such anthologies as Patchwork Path and Chicken Soup for the Soul. Her debut novel, ,i>Seashells in the Desert, an historical mystery set in Arizona in 1895, was published by Trebleheart Books in 2010.