Page 1 Page 2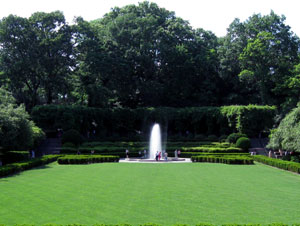 A look at the sport of tennis, with its mannerism and perceptions.
Writing about tennis is easy, but playing it well is difficult, and I know if I am too critical of the sport and its players, then I risk not playing very often, as nobody will want to play with me. But since this article does not offer advice on how to improve one's tennis game, most tennis players are unlikely to read it. Tennis players are interested in only two things: how to improve their game, and their next game.
We have all seen one of those 1930's Agatha Christie plays or films that have 40-year-old couples wearing long white sport clothing and lobbing a few "darlings" at each other while drinking gin and orange at their Dorset Cottage. Maybe tennis epitomizes the long gone British Colonial days? You still see some players wearing long whites in July, and there is always one South African player walking around with a pure white jumper. No one plays with wooden rackets, white balls, or wears white plimsolls anymore, but there does seem to be a frozen-in-time feeling to the sport.
I asked some young snowboarders on a quad chair at Sun Peaks what they thought about tennis. Of course, there was the usual lack of enthusiasm to talk with anyone over eighteen. They said they knew some kids who once tried tennis, and one of them had an uncle who played. There was no interest in tennis, as it had no resemblance to anything extreme. It is a pity, since I have often witnessed young men playing singles whose athleticism and valour would outdistance most hockey players.
A popular television image of tennis is one of tanned and toned girls dressed in tight clothing, adjusting their underwear every four minutes. This is not IMAX material. Regardless of how the sport is painted, it persists in having an indolent and retiree image. How often have you picked up a brochure promoting an adult community resort with smiling fifty-five-year-olds standing in new tennis shoes and holding tennis rackets? Now for next year's photograph can we have a picture of them on the court serving and doing overhead smashes, please? It would sell the sport, and the resort, much better. Then there are, of course, the tennis girls. They claim that they "don't work." Some of them even boast that they have "never worked." If they had not married, well, I am not sure what they would have done. When not walking off the court they are either shopping for tennis clothes or taking a Pilates 2 class.
The thirty-seven tennis matches from the Professional Tour fuel tennis players of all ilks. The so called "Grand Slams" of tennis eclipse all other matches, prompting tennis enthusiasts to have a stack of blank videotapes or a new CD burner hooked up adequately. The tennis year commences on a hard court at Melbourne Park, Australia: in late May it moves to clay at Roland Garros, Paris. Six weeks before the first Monday in August, tennis talk is grass at Wimbledon. The rowdy US Open takes place at Flushing Meadows, New York, on another kind of hard court. Tennis players like to attend live tennis matches, especially if there is a famous player to be seen.
Tennis players watch a lot of tennis on television and excitingly relive the details of games between Roger Federer and Tim Henman, including all the break points and tie breakers: 7-6(3), 7-6(6) — can you tell who won? Tennis players know the difference between Venus Williams and Serena Williams, and know that Roger Federer comes from Switzerland while Ivan Ljubicic comes from Croatia but lives in Monte Carlo. Greg Rusedski? Bit of confusion of here; he comes from Quebec but plays for England and is even part of the Sir Cliff Richard's Tennis Foundation!
Women's single tennis is more interesting than men's singles because the women tend to have longer rallies than the men, who serve and volley, or just serve very hard, and move onto the next point. But the mystique of men's singles remains. Of course, no one is interested in watching doubles, especially mixed doubles. Really, though, can you name any top doubles players besides Grant Connell and…? I agree doubles is tactical, fun, and social, but still, no one cares, or wants to watch it. Tennis players have a guilt complex about watching so much tennis, but remain in the fantasy that it will help their tennis game. That's like thinking that, just because you watch Lance Armstrong during the Tour de France, you will be a better cyclist.
Page 1 Page 2
Pages: 1 2
John Joyce was born at Hampton Court in England. He held school records for running the mile. He was educated in London and Salford, Lancashire, where he gained an honours degree in electrical engineering. Subsequent studies have been at Dalhousie University, University of British Columbia and Capilano College. John Joyce started writing philosophy at school and has been extensively published. "Moniques's Interview" was his first short play, and "Going Standby" is his latest. He departed England for Montreal to go around the world, living at different times in Montreal, Toronto, Ottawa and Dartmouth. He resides in Vancouver, Canada with his wife, Diane. Altus Arts Agency promotes his works worldwide.