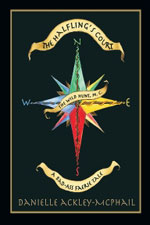 While much of modern fantasy makes use of similar tropes and settings, The Halfling's Court by Danielle Ackley-McPhail takes fantasy to a new level: blending the familiar with the unexpected, timelessness with modernity and— believe it or not — faeries with a biker gang.
Ackley-McPhail first introduced this world through two stories she wrote for collections she edited, Bad Ass Faeries 1 and 2. Even though those collections focused on revisiting the mythological world of faeries, her stories stood out for their fresh perspective.
She has clearly done her research into the biker world and writes believably from that perspective. In this tale, a halfling, Lance Cosain, who is part human, part faerie, has formed his own "kingdom" in the form of a biker gang composed of humans, fellow halflings and renegade faeries. While he's aware of his dual nature, he has never learned to harness the power of his faerie half.
While he has taken little notice of the faerie world, they have been taking note of him. When he is perceived as a threat, they send forces against him. Thus begins the clash between the two worlds, beginning with the two original stories and contributing additional background into his family and his place within the faerie world.
It's the sign of a unique talent to be able to blend two disparate worlds so convincingly and to produce a compelling story. Like her protagonist, Ackley-McPhail's book is a hybrid of literary genres. And like her protagonist, her book draws from the strengths of each and combines them into an entertaining, page-turning tale.
Rating: **** (Must Read)
Dark Quest, 2009: ISBN: 978-0-976901-6-7.
Disclosure: A review copy of the book was provided by the author.
Alyce Wilson is the editor of
Wild Violet
and in her copious spare time writes humor, non-fiction, fiction and poetry and infrequently keeps
an online journal
. Her first chapbook,
Picturebook of the Martyrs
; her e-book/pamphlet,
Stay Out of the Bin! An Editor's Tips on Getting Published in Lit Mags
; her book of essays and columns,
The Art of Life
; her humorous nonfiction ebook,
Dedicated Idiocy: How Monty Python Fandom Changed My Life
, and her newest poetry collection,
Owning the Ghosts,
can all be ordered from her Web site,
AlyceWilson.com
. In late 2019, she published a volume of poetry by her third great-grandfather,
Reading's Physician Poet: Poems by Dr. James Meredith Mathews,
which also contains genealogical information about the Mathews family. She lives with her husband and son in the Philadelphia area and takes far too many photos of her handsome, creative son, nicknamed Kung Fu Panda.