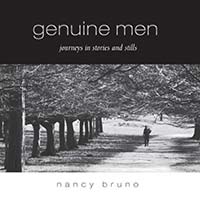 On the surface, Genuine Men: Journeys in Stories and Stills sounds like a promising project. Photographer Nancy Bruno set out to depict the lives of men from a variety of backgrounds and ages, and to share their views on what it means to be a real man. Unfortunately, for a book centered around photography, the portraits fail to impress.
Considering that the photos are black-and-white, most are also low contrast, in an uninteresting palette of medum grays. The framing of these photos often fails to make sense, which could have been addressed during the print-making. All serious photographers should understand such techniques.
Even more baffling is the fact that these photos rarely connect with the stories being told. Bruno must have decided, correctly, that action photos were best. But instead of, say, showing a pastor preaching to his church, or a youth counselor working with children, she depicts them in unrelated activities such as biking and jogging. Often, these activities do not even appear in the write-ups as significant parts of these men's lives.
The write-ups, most of them a page to a page and a half, are equally flat and uninteresting. Despite their short length, they are often too wordy, without purpose. Why are these men the best examples of being a real man? That question is often left unanswered.
While this project, on its surface, boasted many merits, the execution is sadly lacking.
Rating: * (Save Your Money)
Bridgeway Books, 2008; ISBN: 978-1-934454=27-5.
Disclosure: A review copy of the book was provided by the publisher.
Alyce Wilson is the editor of
Wild Violet
and in her copious spare time writes humor, non-fiction, fiction and poetry and infrequently keeps
an online journal
. Her first chapbook,
Picturebook of the Martyrs
; her e-book/pamphlet,
Stay Out of the Bin! An Editor's Tips on Getting Published in Lit Mags
; her book of essays and columns,
The Art of Life
; her humorous nonfiction ebook,
Dedicated Idiocy: How Monty Python Fandom Changed My Life
, and her newest poetry collection,
Owning the Ghosts,
can all be ordered from her Web site,
AlyceWilson.com
. In late 2019, she published a volume of poetry by her third great-grandfather,
Reading's Physician Poet: Poems by Dr. James Meredith Mathews,
which also contains genealogical information about the Mathews family. She lives with her husband and son in the Philadelphia area and takes far too many photos of her handsome, creative son, nicknamed Kung Fu Panda.