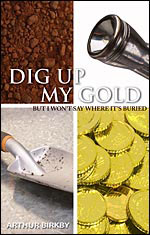 By the time anyone has reached 70 to 80 years of age, he or she will have accumulated a wealth of stories. At some point, a friend or family member is likely to suggest, "You ought to write a book." Of all those people with interesting stories, only about 10 percent probably have anything worth writing about, and only a fraction of them are capable of turning their stories into a worthwhile book. I say this by way of explaining why so many memoirs — especially those which are independently or self-published — tend to fall flat.
In Arthur Birkby's case, he does relate some interesting stories in his book, Dig Up My Gold (But I Won't Say Where It's Buried.) For example, he shares tales of his family's life in the '20s, '30s and '40s in Philadelphia. In the second half of the book, he talks about life in the noncombatant role of chaplain's assistant during World War II. These stories are simply organized chronologically but fail to relate to each other through any other path than that they all happened to the same person.
While Birkby's tales could serve as useful raw material for local historians, genealogists, and military buffs, he falls prey to the tendency that strikes many beginning authors: a failure to find focus. In truth, this comprises two different books: one about the experiences within a close-knit yet quirky Philadelphia family in the early part of the century and, secondly, a book about World War II Army experiences. While all these stories come from the same man's life, they otherwise feel disjointed. The book would be stronger if he had concentrated on one particular type of story.
Aside from his immediate family and, of course, historians and genealogists, this book is unlikely to interest any other readers.
Rating: ** (Fair)
Tate Publishing, 2006; ISBN: 1-5988624-8-0.
Disclosure: A review copy of the book was provided by the publisher.
Alyce Wilson is the editor of
Wild Violet
and in her copious spare time writes humor, non-fiction, fiction and poetry and infrequently keeps
an online journal
. Her first chapbook,
Picturebook of the Martyrs
; her e-book/pamphlet,
Stay Out of the Bin! An Editor's Tips on Getting Published in Lit Mags
; her book of essays and columns,
The Art of Life
; her humorous nonfiction ebook,
Dedicated Idiocy: How Monty Python Fandom Changed My Life
, and her newest poetry collection,
Owning the Ghosts,
can all be ordered from her Web site,
AlyceWilson.com
. In late 2019, she published a volume of poetry by her third great-grandfather,
Reading's Physician Poet: Poems by Dr. James Meredith Mathews,
which also contains genealogical information about the Mathews family. She lives with her husband and son in the Philadelphia area and takes far too many photos of her handsome, creative son, nicknamed Kung Fu Panda.