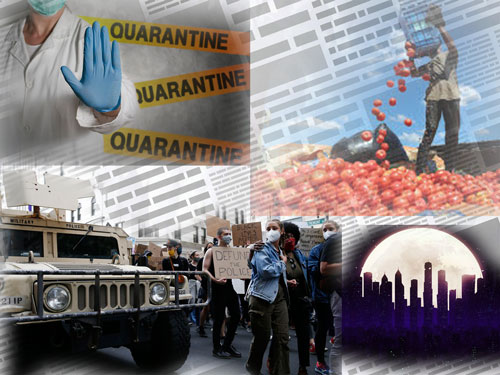 Oligarchies discard cartons of rotting produce
in secret dumpsters across twenty-seven states
withholding payment from migrants.
Wraiths eat mold. Camellias bloom in acidic soil—
gnarled, blackened with ash. Governors
convey cases of bourbon to prevent viral contamination,
the appearance of insensitivity.
Activists quashed by the National Guard reorganize
in abandoned airplane hangars,
subsisting on canned tomatoes and roast beef.
The nearly assassinated president revivifies,
endorsed by state radio. Hospitals for Hollywood stars,
skyscrapers, appear on the moon.
Denizens die in quarantine.
Kevin J.B. O'Connor is currently pursuing his Ph.D. in English at University of Kentucky and received his MFA from Old Dominion University. He has published poetry in Luna Luna, Slant, Glassworks, Flare: The Flagler Review, Bayou, Eunoia, Yemassee, Hawaii Pacific Review, Poetry City, USA, Broke Bohemian, Postcard Poems and Prose, The Bakery, Bluestem, Mayday Magazine, Midway Journal, Barely South Review, and Visions International, among other journals. He lives in Lexington, KY.