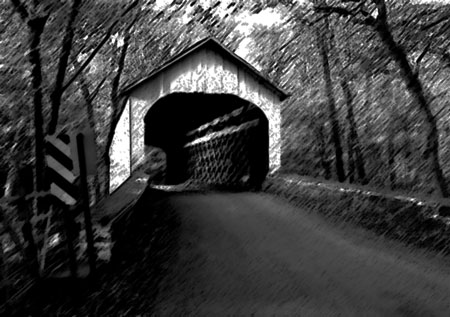 That night, I grabbed a handful of four-inch nails from my father's work bench and threw them in my pocket. Pugs would be bringing the planks and hammer; Jip, the guts and glory. The covered bridge was a long 60-footer but only wide enough for one car to pass at a time. A traffic jam required just two cars or a car and a cow. I thought that was engineering genius. The bridge forced people to be nice or not get to where they are going.
At 8, we went behind the school for a good-luck puff. It looked like Pugs might be wearing his mother's Fall coat. He told us he couldn't find anything darker. Jip was weirdly quiet. Pugs, on the other hand, was as happy as a puppy in a bucket full of tennis balls. He finally had something to do. I kept sticking my hand in my pocket, pricking my fingers on the tips of the nails.
We had a 30-minute trek ahead of us and through pretty dense woods. That didn't hinder us. We knew every inch of the woods like it was written in our souls. On our walk there, in the dark, Jip talked about things he'd never talked of before. He talked about how much he hated school and about this uncle who had taught him how to throw a curve and catch a wide-mouth bass. It was the first time I'd heard Jip's voice in a somewhat gentle tone. He spoke of his uncle the way we imagine the voice inside us sounds like when we think about our favorite Christmas. Jip talked of his aunt, too; how after games of catch, she would make dinner and they would all sit around and watch TV. Me and Pugs just listened. Pugs didn't have any stories. He'd never done anything. I kind of wished the walk was longer. Actually, what I really wished for was that we would turn around and go back, forget about our mayhem. I never told anyone, but I had no mayhem in me. My mayhem was all made up. In my world, there was room for ferrets, room for lots of things nobody else seemed to have room for.
When we finally made it to Restitution, to the bridge, we were surprised at how big the bridge really was. We plopped ourselves down in the tall grass under the bridge's concrete supports. I laid the boards on the grass. Jip immediately hammered in the nails. The kid had incredible accuracy, mighty wallops. When he finished, he looked at his watch; quarter after nine. With spiky planks in hand, Jip then made his way up the incline. He tiptoed onto the bridge's wooden floor, positioned the planks for maximum damage and hammered the boards one with the bridge. The Ferret was out there somewhere, we knew, getting closer.
The three amigos then made our way to higher ground and plopped ourselves where we could get a bird's-eye view of mayhem. I stared down at the nail tips glowing in the moonlight, peeking through the bridge's warped roof. We didn't know it, but real change was coming – not to the Ferret, but to us. There rarely is warning – no siren or bell. It's always disguised as unremarkable. That's how it comes.
Jip leaned against my shoulder and patted his sweatshirt pocket hard, daring me to look. I did. There it was, sticking halfway out of his pocket, the handle of a real gun. That was the start of a lifetime thinking about moonlight for me. That changed it all.
I felt my skin grow taught and my heart became a badly runningmotor. My legs felt numb.
"I'm doing him," Jip whispered into my ear, "Doing him good, tonight."
I saw that our hero was slowly raising a curtain on a dance I think he must have been practicing for a long time.
"Don't be crazy, man," I whispered back.
Joe Ducato is retired from the Human Service and IT fields and currently work part-time in a school system. He has been writing for many years, and his publishing credits include; North Dakota Quarterly, Floyd County Moonshine, Lost Lake Folk Opera, and Strata Magazine, among others.