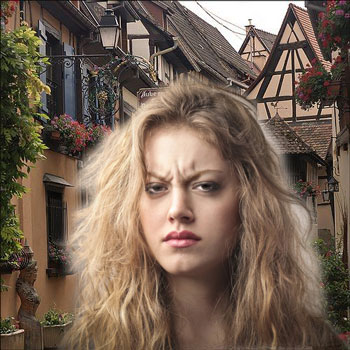 She stood at six-foot-four,
a miracle, a freak.
Most any wooden floor
she walked upon would creak.
No window, porch, or door
was safe from her physique.
When she stomped into town,
petunias would wilt
and greenery would brown
and pails of milk be spilt,
and weaker walls fall down
and have to be rebuilt.
One by one, in her wake
new houses rose, improved
to withstand such a shake.
And some thought it behooved
them all to let her quake;
but most were still unmoved.
A Task Force was assigned
to meet her face to face
and ask her if she'd mind
staying at her own place,
but she was not inclined
to shoulder such disgrace.
YOU MEASLY LITTLE MEN!
YOU FEEBLE, PUISNY ANTS!
She yelled at them, and then
she kicked two in the pants.
THE DAY I'LL DO THAT'S WHEN
PRINCE CHARMING COMES TO DANCE.
Then suddenly they knew,
as one brave nursed his fan:
Like any untamed shrew,
her problem was — no man.
The Task Force thought things through
and came up with a plan:
They searched far, high and low,
for some brave knight to charm her.
One, six-foot-six or so
but trembling in his armor,
said resolutely NO!—
and then became a farmer.
Would she never be a wife
and know connubial bliss,
but have to live her life
forevermore a Miss
and keep on causing strife
for want of one true kiss?
As year piled onto year
and course trailed after course
at last it became clear
no knight on a white horse
was going to appear
to satisfy the Force.
For in this modern age
much new had come to pass:
and Time had turned the page
from chivalrous to crass.
No longer did youths wage
their fortunes on a lass
in hopes that a true male
could make a lady fair
as in a fairy tale
and former ways, forswear.
They sought no holy grail,
nor damsel in despair.
Up and down the coast
the Task Force searched and panned.
One morning they almost
decided to disband.
Then, in their home town's Post,
they read that their homeland
had suffered the attack
of a great hurricane
and lay in ruin and wrack
and neighbors had been slain.
They had to hurry back;
priorities were plain.
The Force saw, far and near,
destruction was widespread.
The farmers' fields were sere
and rivers had turned red.
They shed many a tear
for many others dead.
Where the next village should
have been lay nothing but
torn shards and scraps of wood
clogging up rill and rut:
nary a building stood,
nor office tower nor hut.
Their home town, however,
had been spared from the worst,
its buildings more secure,
recently reinforced.
And they owed it all to her,
whom they had scorned and cursed!
To other nearby lands
beset by far more grief
than joy, our town lent hands
to aid in the relief.
They formed Good Neighbor bands.
Our Termagant was chief.
She had them clear the rubble
that had been tempest-tossed
and go to extra trouble
(of course at half the cost)
to erect the new walls double
so as not to be lost
again. That misanthrope,
by working tirelessly,
reinforced folks with hope
(as much as hope could be,
considering the scope
of the catastrophe).
Our grateful village gave
the Termagant her pick
of men—now, willing—save
the married, old, and sick.
Alas, though, she would have
not one of them — not Dick
or Tom or Harry—none! —
but shouted, red and sore,
IS THAT THE SORT OF FUN
YOU THINK YOU'LL USE ME FOR?
She cursed them, every one,
and slammed her cottage door.
She was as she'd begun:
our Termagant once more.
Widely published both stateside and abroad, James B. Nicola has several poetry awards and nominations to his credit. His nonfiction book,
Playing the Audience
, won a Choice award. First poetry collection:
Manhattan Plaza
, 2014, available at
sites.google.com/site/jamesbnicola
. Second collection:
Stage to Page: Poems from the Theater
, to appear in June of 2016. A Yale grad and also a stage director, composer, lyricist, and playwright, his children's musical,
Chimes: A Christ­mas Vaude­ville
, premiered in Fairbanks, Alaska, where Santa Claus was in attendance on opening night.