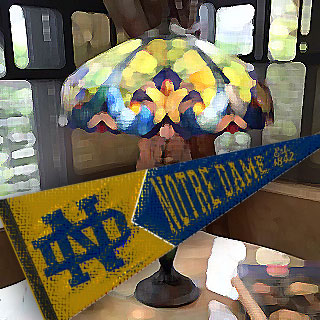 If we lived together,
you would nick your chin on a regular basis,
confusing my razor with yours,
because I am more enamored of smooth legs than
I am of ineffectual, pink girly-girl razors.
If we lived together,
I would lie awake until you fell asleep,
then slide quietly from under the covers
to turn the thermostat up five degrees,
because I grew up in an ungodly-cold house and I swore
that someday, I would be toasty-warm and sleep in the nude.
If we lived together,
you would bribe me with a foot rub
to stop my chatter so that you could listen to the nightly news.
If we lived together,
I would have frequent indigestion from eating red meat,
because you are a meat-and-potatoes Irishman
and I believe that food is love
and the way to a man's heart is through his stomach.
If we lived together,
your 1950s doo-wop CDs would mysteriously disappear,
to be found years later,
buried under a layer of mothballs in the trunk at the foot of our bed.
If we lived together,
my Tiffany-reproduction lamps would be banished to the guestroom
as too frou-frou
to coordinate with your Notre Dame pennants.
If we lived together, we would get nothing read,
because we would be constantly interrupting each other
to explain the delights of what we were reading.
If we lived together, we would get nothing done,
because the sight of you always makes me want to pull you
back into the bed with me…
or the shower…
or the hammock.
Ah, yes, if we lived together…
Tina Ralls teaches creative writing classes in Lehigh Valley, Pennsylvania, where she lives with a small (but ferocious) Pomeranian named Foxy Lulu, tinkers with her allegedly completed memoir, and writes poetry and short stories that her sexy Irish boyfriend thinks are all about him – and they probably are. In her past life, she was a Research Editor at Reader's Digest magazine, as well as a law clerk and a criminal appellate attorney in Manhattan, with several publications in obscure legal journals to her credit. This is her first published poem.