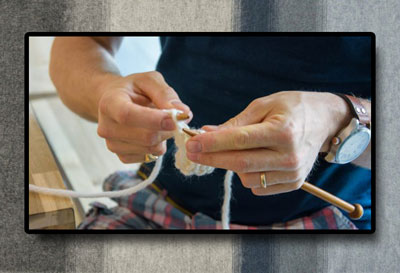 (knitting pattern for a baby blanket)
Your voice unspools inside me knitting
on the porch while bats crisscross
the yard. The blow-up
that morning at Dad's funeral is as burnished
as a scar on that old elm tree we used to play kick
the can under. I'm halfway through a blanket
for a friend's baby, using lopi wool
skeins hunted down in Ireland
last winter. I thought we had reached
a truce in that old family quarrel. Yet
my fingers will not
allow me to rest, the wooden
needles ticking knit 10, purl 10
into a basket
weave design. Just
now I have lost count
of the rows and notice a dropped
stitch, a hole at the top. I won't
deny that hurt
blossoms over the years, but you have developed
a kind of affection for your airtight
anger. Tonight I'll spend
time unpicking, unraveling yarn
row by row to get back to where the pattern
went wrong, pulling apart our tangled
feelings. Let's trade in our resentment, a chance
to do it all over, to be knitted back
together right this time.
Anthony Botti's poetry has appeared recently in Comstock Review, The MacGuffin, Cider Press Review, Caveat Lector, Clark Street Review, Old Red Kimono, Tiger's Eye, The Rockford Review, and Peregrine. He lives in Boston with his partner and their pug, Ernie, where he works in health care management at Harvard University.