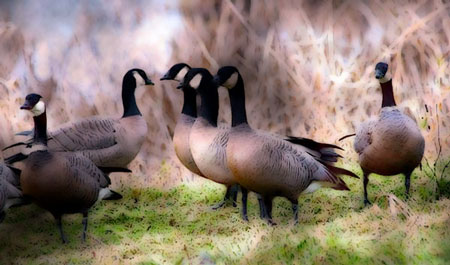 Two big geese can
scare up the dead.
— August Kleinzahler, "Canada Geese in New Jersey"
Mid-March.
The long, wet winter hasn't
moved on yet.
They're still out there
in the slough, dark-bound,
rain-pressed, raising
an awkward hell,
maybe ten, maybe a hundred
for all the racket,
big Canada geese,
honking in high form at 6 A.M.,
spooked by something,
an otter or harbor
seal working high tide, maybe just
their own surliness,
too many of them
to get through the night silently,
or something's in
the air, the season
starting to change, a long, long
journey waiting
when the first one
knows that it's time to head
north. I can't sleep
either, restless
myself, dinner alone, one
glass of wine
too many, my
own deep brain stirred up by
lurking shadows.
and the long trip
I still have to take. I try different
positions, then
crack the window
and listen to more of their raucous
conversation. Spring
out there somewhere,
and the next home for us all just a few
journeys away.
Puget Island, Washington
---
This poem previously appeared in "Windfall," a publication specializing in poetry relating to places in Oregon.
David Filer grew up in the low California desert but has lived in Oregon (now Portland) since 1975. He's retired from an early career teaching junior high school and then a longer one as an attorney. Now he volunteers in the local juvenile court and his neighborhood middle school. His wife, Marlene Anderson, created and directs The Imani Project, working with villagers in coastal Kenya on HIV/AIDS prevention, orphan support and related issues.