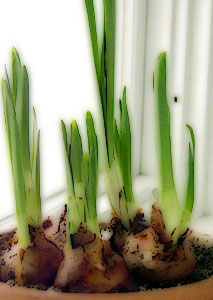 Half past eight. I wake in silence to sun
on the calla lily, a single beam assaulting
he white swirled cup. Yesterday
snow skimmed past the windows on horizontal
waves, drifts piling up
on the front steps under the high wind.
I shoveled snow that fell for three days.
February air scrapes
under the peeling windowsill. Bleached
light skids across the length of the room
into each corner on this timid
morning before the sun rushes away. This afternoon
the narcissus bulbs I planted earlier in clay pots
are splitting open, forced out into life.
Anthony Botti's poetry has appeared recently in Comstock Review, The MacGuffin, Cider Press Review, Caveat Lector, Clark Street Review, Old Red Kimono, Tiger's Eye, The Rockford Review, and Peregrine. He lives in Boston with his partner and their pug, Ernie, where he works in health care management at Harvard University.