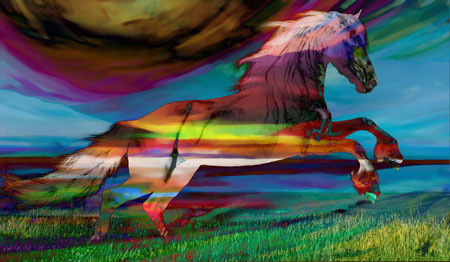 but a flesh horse, his
dark mane pressed to
my forehead. Before
the moon's full, I want
his solid body, a book
of blood and breath.
I need his ears to
flatten against my
ears. No, I wasn't
horse wild as a girl,
didn't die for statues
and books though I
painted a black stallion
against a hot orange
sky. It's this horse
I dream I sleep with,
one that couldn't, like
a dog, take care of
himself without
me, this beauty
already filling the
space where I
dream him,
wait for him
to become flesh.
Lyn Lifshin has published over 130 books and chapbooks including three from Black Sparrow Press: Cold Comfort, Before It's Light and Another Woman Who Looks Like Me. Before Secretariat: The Red Freak, The Miracle, Lifshin published her prize-winning book about the short-lived beautiful race horse Ruffian, The Licorice Daughter: My Year With Ruffian and Barbaro: Beyond Brokenness. Recent books include Ballroom, All the Poets Who Have Touched Me, Living and Dead. All True, Especially The Lies, Light At the End: The Jesus Poems, Katrina, Mirrors, Persphone, Lost In The Fog, Knife Edge & Absinthe: The Tango Poems . NYQ books published A Girl Goes into The Woods. Also just out: For the Roses, poems after Joni Mitchell and Hitchcock Hotel from Danse Macabre; Secretariat: The Red Freak, The Miracle and Tangled as the Alphabet,-- The Istanbul Poems from NightBallet Press. Just released, as well, Malala, the DVD of Lyn Lifshin: Not Made of Glass. The Marilyn Poems was just released from Rubber Boots Press. An update to her Gale Research Autobiography is out: Lips, Blues, Blue Lace: On The Outside. Also just out is a DVD of the documentary film about her: Lyn Lifshin: Not Made Of Glass. Just out: Femme Eterna and Moving Through Stained Glass: the Maple Poems. Forthcoming: Degas Little Dancer and Winter Poems from Kind of a Hurricane press, Poems and Paintings from Tangerine press and The Silk Road from Night Ballet, Ice Maiden from Transcendent Zero Press