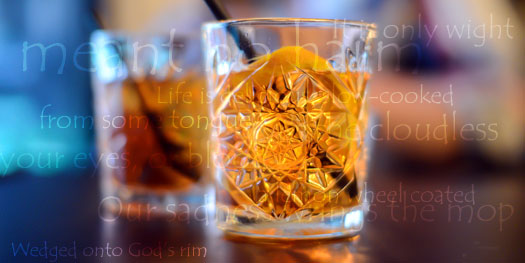 after Stephen Crane's "Black Riders Came from the Sea"
A half-full phenomenon—
endless russets of dirt
horizoned & drinking
generous, bottomless blue.
Godlings with shakers sing
the chink & clink of hard wet ice.
This doleful infinity
meant no harm.
It is only wight
in your eyes, or blood
from some tongue.
Our sadness wrings the mop
-up of the cropless
& the cloudless.
Life is delicious, slow-cooked
at 98° F. Wedged onto God's rim—
a lemon wheel coated
in bitters, some garnish.
Henry Goldkamp has lived in major cities along the Mississippi River his entire life—a stuffy way of saying Saint Louis and New Orleans. Recent work appears in Albatross, Third Wednesday, BULL, Blood Orange Review, b(OINK), Sierra Nevada Review, Pretty Owl, Permafrost, and others. His public art projects have been covered by Time and NPR. To contemporarily stalk him, follow @wthstl on instagram, or simply Google him with a fresh beverage of your choice.