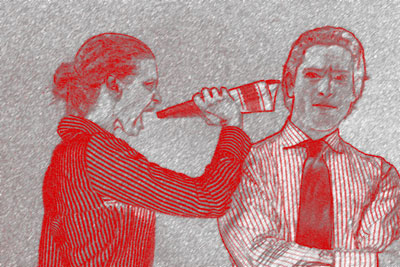 This has not been an easy piece to write, for it deals with a very odious category of people, those who are so unpleasant that, upon sight of them, many flee and hide. Are you such a person? Ah, you automatically declare "NO!" I assert, though, that you must study my words of sterling wisdom before you can be positive. Now let's move on to today's probing topic: How to tell when it's time to work on your attitude and general demeanor. I proffer to you six ways you can tell:
(1) Just after you run a stop sign, yell obscenities out the window, and flip someone off, a cop stops you. The "Jesus is my Lord" and "Y'all have a great day" bumper stickers aroused strong suspicions that you were driving a stolen car.
(2) You overhear the kids you babysit begging their parents to let them stay: (A) with the neighbor who stays drunk all the time, wanders around in a fog mumbling to herself, and just got out of prison or (B) at the local daycare they once went to daily, where the bigger kids (the ones with brass knucks) fought a lot over the little kids' food and the owner sometimes called the police to restore order.
(3) The sight of you approaching can disperse a large crowd from the sidewalk or empty out the most popular restaurant in town in ten seconds flat—during lunch hour.
(4) Your own mama says she can't go shopping with you because—well, she has a prior engagement… a headache… peas to shell… a hangnail… a feverish desire to watch "Lawrence Welk"… a very contagious illness…
(5) Your pastor—one of the godliest, most compassionate, peace-loving people alive— has a sore place on his tongue, from biting it, after every attempt to converse with you. (No, you won't see his tongue—just him running in the other direction.)
(6) Your ninety-eight-year-old great-grandfather says it's not a good time to come by because—uh, he's going ice skating—and then mountain climbing… he can't stand to miss a minute of "Dancing to the Oldies with Richard Simmons" reruns… he has to go to the gym to help some young guys with their power lifting… he needs to spend the evening alone looking for pictures and other mementoes you know he hasn't looked at in fifty years…
If you haven't gotten the point by now, you must be really dull-witted. OOPS! So sorry! It's terribly out of character for me to say things like that. I have to go now. I need to put some more bumper stickers on my car.
Janice Canerdy is a retired high-school English teacher from Potts Camp, Mississippi. As a teacherof great literature, she especially relished writing over-the-top parodies of the classic poems she taught. She did not share these with her students because she liked her job. Her writings have appeared in several publications, including Wild Violet, Light Quarterly, The Road Not Taken, Lyric, Parody, Bitterroot, Cyclamens and Swords, Society of Classical Poets, Westward Quarterly, Lighten Up Online, Better Than Starbucks, and Southern Tablet; and anthologies, including those published by the Mississippi Poetry Society, the National Federation of State Poetry Societies, Whispering Angel Books, and Quill Books. Her first book, Expressions of Faith (Christian Faith Publishing), was published in December 2016.