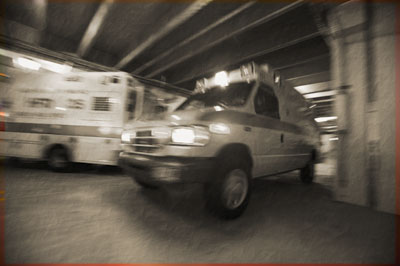 for Alexander
Chronic obstructive pulmonary disease
was the doctor's primary diagnosis when,
once a month, Danika materialized at the local ER,
was stabilized with steroids and inhalers,
and sent home.
Chronic obnoxious monthly bills
was the insurer's prompt analysis when
its own nurse reported, "Sure, she has COPD,
but there is no reason for her to be in crisis
every few weeks."
Unobtrusive exploratory talks by phone
revealed to Christie, on the insurer's outreach staff,
that Danika was 76, lived alone, and went out little:
"I get lonely … anxious. At the ER, they're nice. They
talk to me."
Chronic destructive strains of despair
was Christie's conclusion, and her solution –
a community center near Danika's home
where she could play bingo and be with people
all day.
Impersonal, objective maximizing of profit
was the insurer's selfish motivation
to keep Danika out of crisis. Therefore
it made the life of one old woman, living alone,
richer.
Llyn Clague walks the dog that's been dead five years every morning except in the sleet, works his forehand and backhand on weekends, and looks for poetry wherever it can be found. His poems have been published widely, including in
Ibbetson Street, Atlanta Review, Wisconsin Review, California Quarterly, Main Street Rag, New York Quarterly
, and other magazines. His seventh book,
Hard-Edged and Childlike
, was published by Main Street Rag in September, 2014. Visit
www.llynclague.com
.